Vaporizing technology has truly come a long way, and there is no better indication of that than today's crop of fabulous vaporizer devices. Delivering outstanding performance and capability that was virtually unheard of only a few years ago, vaporizers make it possible to enjoy a totally enjoyable herbal or concentrate experience without inhaling a single smoke molecule.
Vaporizers are especially suitable for concentrates, allowing users to enjoy their full benefits. Over the past few years, the market has virtually blossomed with a host of concentrate-specific portable vaporizers, some of which offer superb performance and versatility. Here are some of the more outstanding portable vaporizers for concentrates available on the market today.
Atmos Raw Vaporizer
Price: $200
The Atmos Raw Vaporizer is an all-round winner. It only takes 2-3 hours to fully charge up, and it just seems to run forever. The device is windproof, which is a major plus for this who live in more blustery places. The unit heats up extremely quickly, which is both good and bad. It's good because you do not have to wait long at all before having a draw, but the drawback is that the device has a tendency to heat up too quickly and combust your herbs. It also features a dual-stage filtration system, with debris initially filtered by a stainless steel mesh, and then by the ceramic filter attached to the mouthpiece.
DaVinci Vaporizer
Price: $200
The DaVinci is billed as an advanced portable vaporizer. Powered by three lithium-ion batteries, the DaVinci also offers a superb degree of control over the vaporizing temperature. It even has an auto shut-off feature that turns off the heating element after a pre-specified period of inactivity. The advanced temperature settings allow the DaVinci to be used with both concentrates and herbs, making it one of the more versatile vaporizers on the market.
Atmos Nuke Personal Vaporizer
Price: $130
The Atmos Nuke is designed for use with concentrates, as well as herbs and essential oils. With its rechargeable battery and user-refillable cartridges, the unit delivers amazing versatility and power for the price. Users have the option to operate the unit in single or dual cartridge mode, which gives them the choice between maximum performance and power efficiency.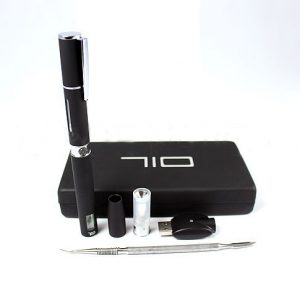 710Pen Vaporizer
Price: $99.99
The innovative 710Pen Vaporizer is a sleek and compact unit that offers superior convenience and efficiency. Designed for portability and stealth, the 710Pen can be taken with you anywhere you go. It comes with a useful LCD display that quickly shows you the current temperature, allowing you to quickly adjust the setting as you see fit. The LCD display also gives you feedback on the current battery level. With fast and even heating, the 710Pen delivers great performance for a very reasonable price.
If you are looking to move up to a better vaporizer than your current model – or even considering vaporizing for the first time – any of these models would be a worthy purchase. Delivering features and performance well above their price ranges, these models all provide excellent value for the money, and they are just as suitable for experienced users as they are for beginners.