King Palm offers the latest and greatest in rolling paper tech, hence the recent influx of attention they're receiving. With all of the disparity with chemicals, carcinogens and other potential toxins from other papers, more and more smokers are looking for something clean and natural. While it might seem like there are tons of natural papers made from things like leaves and corn husk out there, there really isn't a ton of natural options for things like blunt wraps. But luckily, that's where King Palm fits into the equation. King Palm cones and wraps are made from palm leaves and offer a truly natural, flavorful experience without the nicotine or flavoring. Read on to get the full scoop in our in-depth King Palm review.
What are King Palm wraps made of? 
All of the King Palm products, including tubes, cones, papers and wraps, are made entirely out of natural ingredients. Their leaf rolls are made with organic cordia palm leaves that have been dried and pre-rolled for convenience. The King Palm pre-rolls come both natural and in a handful of flavors like Watermelon, Honey Mango and Margarita.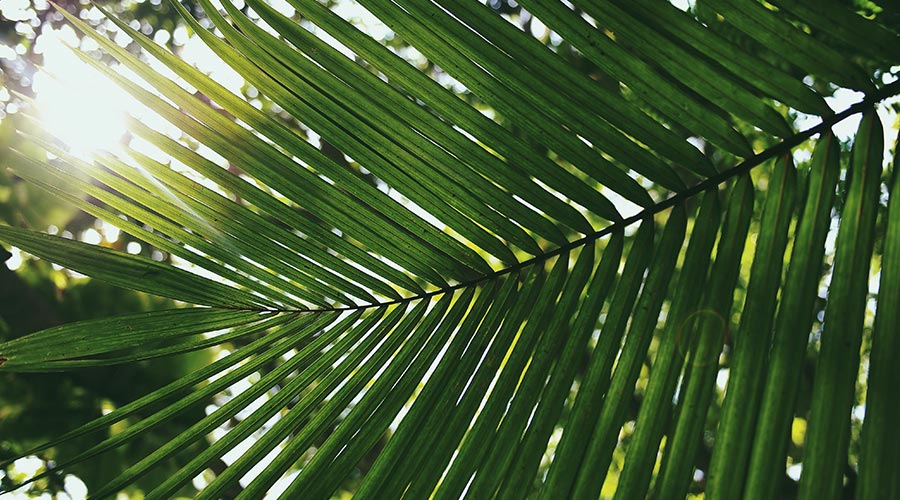 Inside each pre-roll is an eco-friendly joint filter made from corn husks, which are biodegradable and don't alter the flavor of the smoknig experience. But at the end of the day, that's all there is to it. Two simple, natural ingredients that aren't harmful to your lungs and don't affect the nuances in flavor of your favorite weed strains.
What products does King Palm sell? 
King Palm sells a variety of rolls and accessories that you might use with them — including things like ashtrays, grinders and lighters.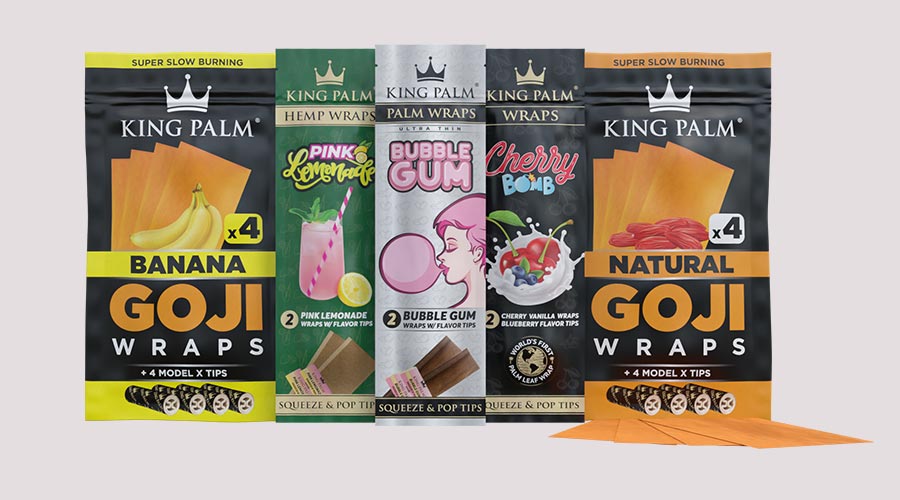 Check out an in-depth description of their main product categories below:
Tubes
King Palm Tubes come in tons of different shapes and sizes, allowing you to stuff anywhere from a half a gram to a full 10+ grams of weed. Like their other options, they're made with the natural palm leaf with the corn husk tip. However, you can also opt for flavored tubes and choose from over a dozen different King Palm flavors. Flavors are pre-infused to the natural palm leaf and sold in single packs. However, you can also get a dual pack that contains two different flavors. Tubes are filled with ground flower and smoked like a blunt.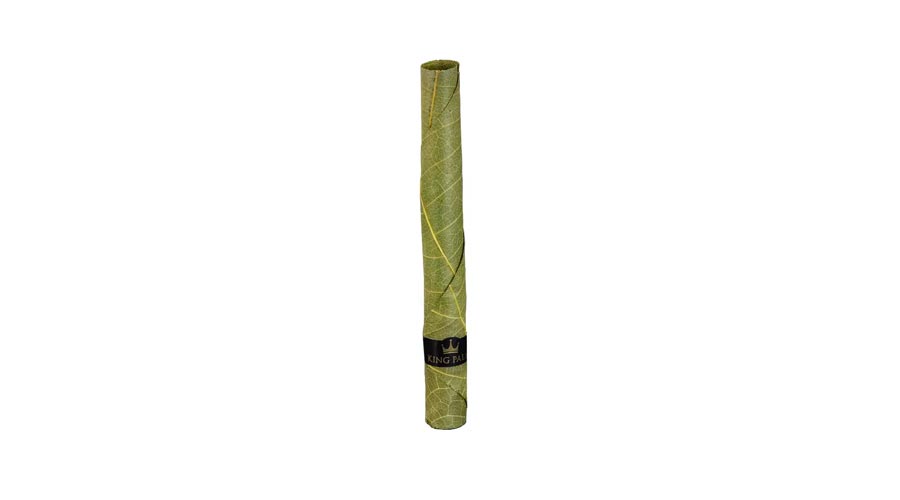 Cones
King Palm cones come in sizes ranging from 70mm to 109mm and can either be made from all-natural hemp, colored paper or the cordia palm leaves. Each cone is pre-rolled for easy filling and smoking and can hold anywhere from 0.25 of a gram to 1.5 grams. Like the tubes, King Palm cones come in a variety of different flavors including blueberry, goji and lotus.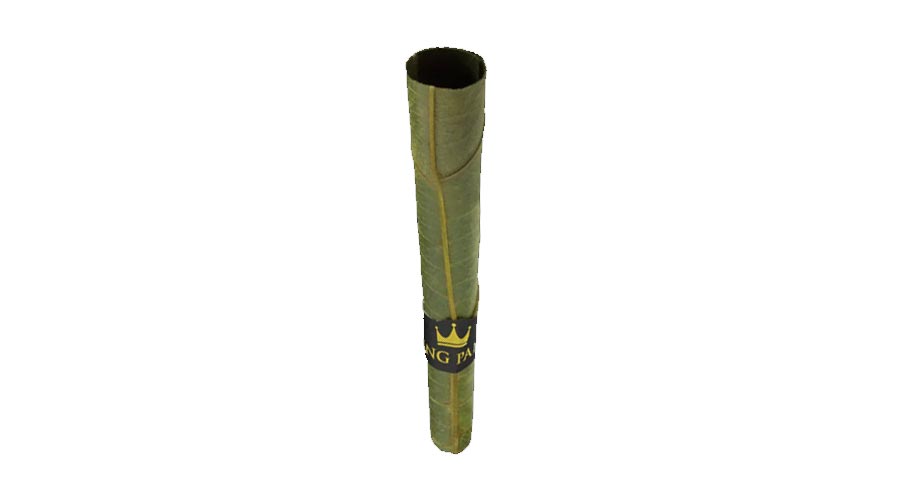 Papers and Wraps
King Palm papers and wraps come in sheets, allowing you to get more control over the shape and size of your rolled cannabis. King Palm Papers come in either french brown or hemp varities, while the wraps are made from their classic cordia palm leaves. Ideal for blunts, they come in a plethora of different flavors, making your smoke taste great.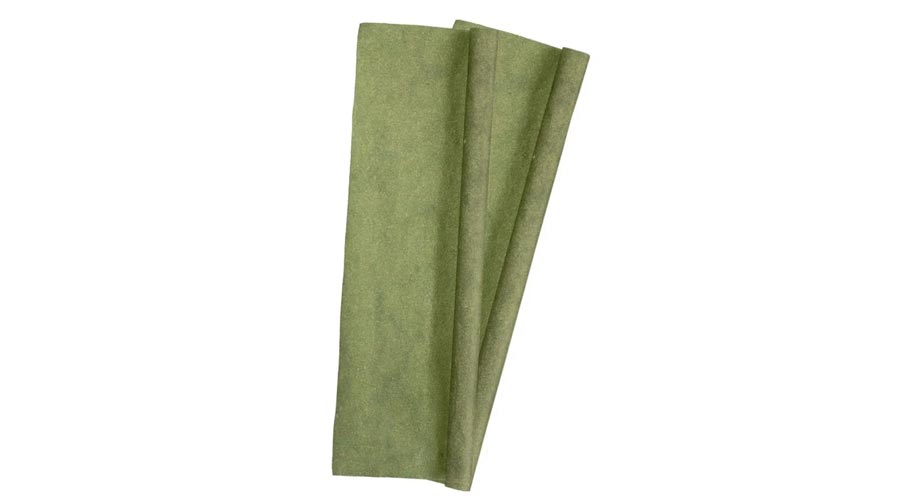 King Palm King Size Cones - (20 Rolls Total) - Natural Pre Roll Palm Leafs - Pre Rolled Cones - All Natural Cones - Corn Husk Filter - Preroll Cones - Cones with Filter - Organic Cones
Don't know how to roll? No problem, King Palm has your back. Our cones come prerolled for your convenience. No need to split, lick, or roll ever again. Seriously, just pack and enjoy your all-natural sesh.
Made from natural leaf rolls that are individually hand-picked and cleaned with purified water. No toxic fertilizers are used in the processing, chemical and preservative free. Each King Palm is individually hand rolled & tobacco free.
The leaves used when making King Palms are resilient and slow burning. This leaf is from the flowering tree of the Cordia (Borage) Family originating from Singapore rain forests where it offers us the best leaf. King Palm helps create sustainability within Singapore creating over 2,500 jobs.
The natural corn-husk filter will be one of the best filter tips you have ever used. It helps to make sure no loose product will fall through and eliminates oil from getting into your mouth. The flexibility of the King palm corn husk filter allows for each customer to hit their cone as they wish, bite down, for a tighter and cooler hit each time you inhale.
INCLUDED: In this purchase you will receive 20 individual hand rolled King size palm leaf cones with a packing stick, stored with a humidity control pack for ultimate freshness. Step up your sesh and be the first to introduce your buddies to our King Palm pre rolls. Our pre rolled cone wraps are the ideal gift for the special person in your life. Grab a pack of King Palm prerolled cones for the gift that keeps on giving.
Benefits of King Palm Wraps 
When it comes to King Palm, there's a lot to love. For starters, King Palms offer a flavorless experience that allows you to experience the truest flavors of your bud. More importantly, though, King Palm is a healthier alternative to tobacco wraps, which cause known health issues from the nicotine that makes them highly addictive. Every King Palm product is 100% tobacco and nicotine-free and doesn't contain any added chemicals.
Another benefit of King Palms is that they are pre-rolled for convenience. All you have to do when you purchase a tube or a wrap is grind up your weed and pack it into the pre-rolled cone or tube with a bamboo packing tool. This also allows for an efficient, slow burn that keeps your smoke rolling with a reduced risk of canoeing or going out.
Last but not least, King Palm products come in a ton of different sizes which gives you more control over how much you smoke. Smaller cones and wraps are great for solo seshes while the larger sizes are great for splitting between several people. The largest size can hold over 10 grams of flower.
King Palm wraps sizes
There are lots of sizes to choose from with the King Palm lineup. Whether you start small or go larger than life, there's an option for you. Explore the main sizes and how much they can hold below.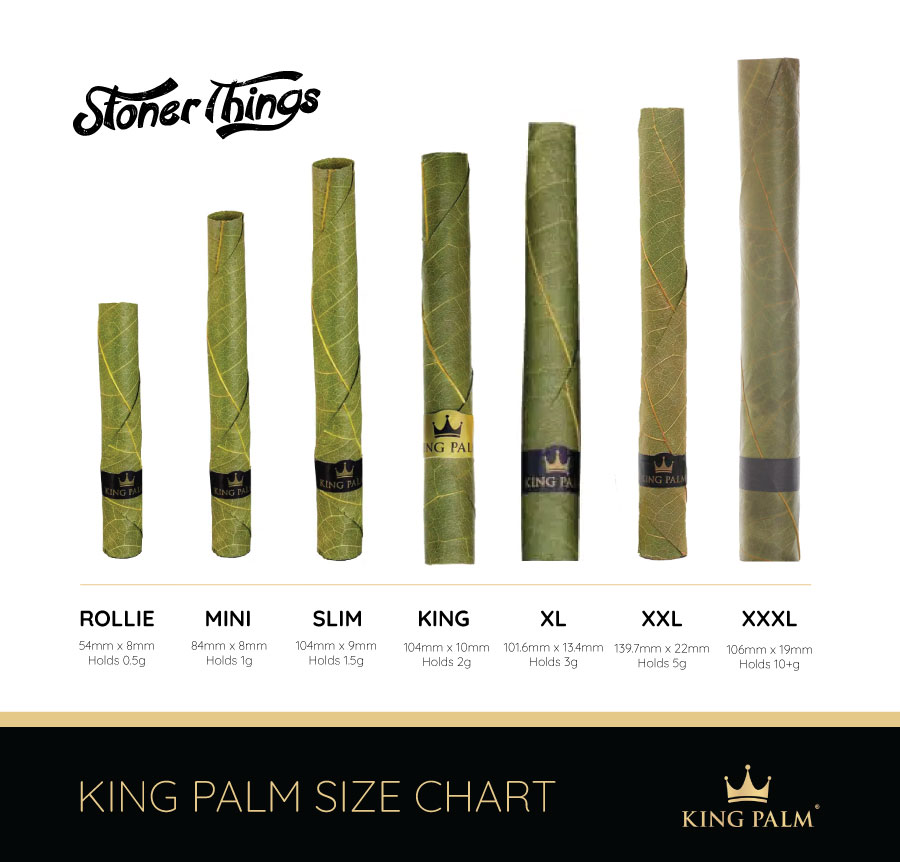 Rollie: 54mm x 8mm, holds 0.5g
Mini Roll: 84mm x 8mm, holds 1g
Slim Roll: 104mm x 9mm, holds 1.5g
King Roll: 104mm x 10mm, holds 2g
XL Roll: 101.6mm x 13.4mm, holds 3g
XXL Roll: 139.7mm x 22mm, holds 5g
XXXL Roll: 160mm x 19mm, holds 10+g
How much do King Palm wraps cost? 
King Palms range in price. Their smallest and most affordable wrap is $2, though you may spend up to $10 on larger wraps. King Palm also allows you to buy their products in bulk, ranging from $16-$180.
FAQs
Q: Do King Palms have nicotine? 
No, King Palm wraps, tubes, and papers are nicotine-free since they're not made with tobacco.
Q: Do King Palms have Chemicals? 
No, King Palm papers, wraps, and tubes are naturally dried and remain unbleached, so there are no added chemicals. Flavored King Palms are flavored using terpenes infused to the corn husk filter, allowing you to get a burst of flavor with every hit.
Q: What do King Palms taste like? 
King palm wraps offer a slightly earthy flavor, though for most people, you can't taste them at all. That's fantastic for enjoying all of the natural terpenes and flavors in your favorite strains. If you do want to enjoy flavored papers and wraps though, King Palm offers dozens of different natural and fruit flavors for you to choose from.