Official Review – Incredibowl i420
The i420 Incredibowl is a smoking device with a look all its own. It's the winner of two High Times Cannabis Cups, and for good reason.
Looks and Design
The i420 is made of a durable, shatter-proof polycarbonate combined with an anodized aluminum carb system, known as "bowl armor". Because of this design and the fact that it's only around 8" long, the i420 is lightweight and easy to manage. There are multiple test videos showing the durability of the product, and it passes almost all tests with flying colors. It is much more durable than glass and is designed to last for a long time. As far as usage, it is incredibly intuitive. It works exactly like you would imagine the first time you look it. Overall, the design and quality both receive very high marks.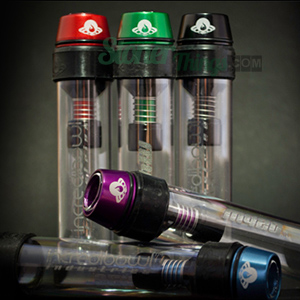 Functionality
The i420 does a good job of combining the qualities of much larger water devices with the portability of smaller devices. The smoke stays much cooler than similar products, taking lowering the toll on the throat and lungs. Overall, the i420 delivers on just about every claim that it makes.
The Kit
The i420 starts at $139.99, which is a solid investment in a product that will last for years. It can also be outfitted with several different accessories, such as the Incredibowl i420 10" XL Extension Chamber or the Incredibowl i420 22" XXL Extension Chamber. Parts are relatively inexpensive to replace as well.
The Verdict
All in all, the Incredibowl i420 really is a quality product. If you are looking for a device that is easy to use, portable, and extremely durable, then look no further. The bowl armor serves its purpose in protecting the glass bowl, and the polycarbonate body of the device is virtually indestructible. What else can you ask for?
It is very important when researching any item to make sure that you are getting a quality, accurate review that points out both negative and positive aspects of the product. At Stoner Things, we take the extra time to add the details you need in order to form a proper opinion of the product you are looking at. Our Incredibowl i420 review was carefully constructed and based on facts as well as our opinion. We here at Stoner Things are a neutral, impartial party aiming to provide an exact, factual representation of the product at hand.