If you love weed, you definitely owe it to yourself to try edibles at some point. They are great for getting your dose without having to subject your lungs to harsh smoke, and the effects can be remarkably powerful and memorable. Furthermore, edibles made with marijuana as a key ingredient can be just as delicious as any other item on the menu, and they have the added flavor that only quality herb can provide.
Before we get into some recipes that you can prepare with herb, you should take a moment to learn how to make cannabutter first. Butter infused with marijuana is a tremendously useful ingredient to have at home, and it can serve as a cornerstone ingredient for some truly outstanding concoctions.
How to make cannabutter
First things first, let's look at how to make cannabutter. This simple process can be done in advance, leaving your infused butter in the fridge ready to go.
Ingredients
1 stick of salted butter
¼ ounce of bud, ground finely
Procedure:
First melt the butter using only low heat. Mix the buds in slowly and simmer the mixture for 45 minutes keeping the heat low. Don't forget to stir often. When done, strain the butter into a bowl, preferably one with a tight-fit lid. The cannabis butter can then be used immediately or stored in the freezer. That's it!
Best cannabutter recipes
Now here are some recipes for which you could use that butter you just made.
1. Pot Brownies
Ingredients
6oz unsweetened chocolate
6oz Cannabutter
2 cups honey
4 eggs
1 tsp salt
1 tbsp vanilla extract
4 cups flour
Procedure
Melt the chocolate in a double-boiler pan, then add the cannabis butter and honey.
Add the eggs and then the salt, vanilla, and flour.
Pour into a greased baking pan and bake for 35 minutes at 375°F.
Cool for an hour before slicing.
Learn more about how to make weed brownies here.
2. Canna Apple Pie
Crust ingredients
2 cups flour
1 teaspoon salt
1 tablespoon sugar
6 tablespoons cannabis butter
6 tablespoons shortening
6 to 8 tablespoons ice water
Crust procedure
Soften the butter thoroughly in the microwave if it was frozen previously. Mix in all the other ingredients in a bowl. Wrap the dough in plastic and then place it in the refrigerator until you are ready to use it.
Filling ingredients
5 apples
1 cup sugar
2 tablespoons flour
1/2 teaspoon cinnamon
1/4 teaspoon salt
1 tablespoon cider vinegar
1 tablespoon lemon juice
Filling procedure
Peel and slice the apples and soak them in water for 10 minutes. A bit of lemon juice to keep them from browning.
Mix all the other ingredients (except for the apples) in a bowl.
Remove the slices of apple from water and add them to the mixture. Coat the apples with the mixture.
Divide the dough into 2 equal portions.
Roll one portion into a circle about 1/8 inches thick and flatten it.
Place it into a baking pan and press it into shape.
Put the apples in the crust and top with some of the cannabis butter.
Roll the rest of the dough out and place it on top of the pie.
Cover the top of the pan with aluminum foil to prevent the edges from burning.
Bake at 400° F for just under an hour or until the crust has turned golden brown.
3. Weed Cookies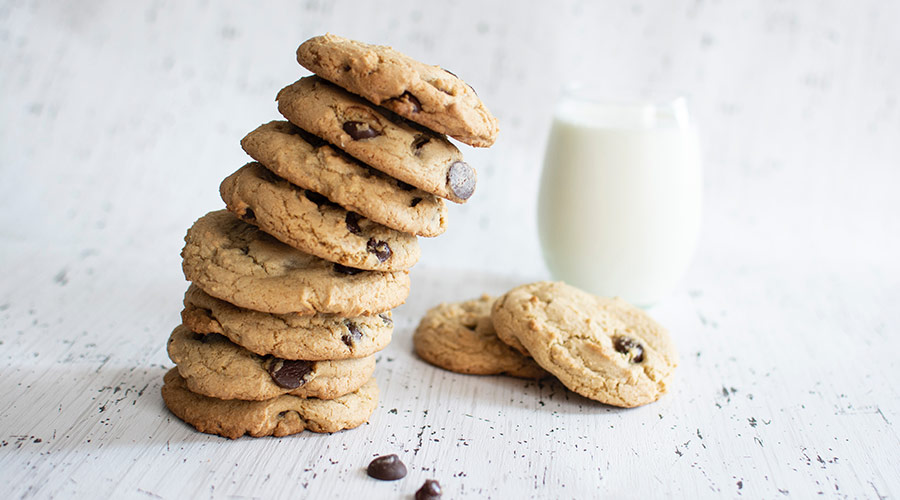 Ingredients
Cannabutter
3 cups all purpose flour
2 cups semi-sweet chocolate chips
1 cup cannabutter
1 cup cane sugar
1 cup brown sugar
2 eggs
1 tsp. baking soda
2 tsp. vanilla extract
½ tsp. salt
Procedure
Preheat oven to 350 °F
Mix sugars together in mixing bowl, then beat in eggs and add vanilla extract
Gradually stir in the flour and salt
Add chocolate chips and stir to mix evenly
Spoon cookie dough onto parchment paper on a baking sheet
Bake for 10 minutes in the pre-heated oven
Click here for more information about how to make weed cookies.