If you love smoking and rolling your own joints, then you know how important it is to have a reliable rolling tray. Rolling trays not only keep your rolling station clean and organized, but they also save you from the frustration of accidentally spilling your weed and losing it to the carpet. But with so many options on the market, how do you know which one to choose? In this guide, we'll cover everything you need to know about rolling trays, including the different materials they're made from, their price range, and some tips to help you find the best rolling tray to suit your personal preferences.
The Top 11 Best Weed Rolling Trays
If you're already familiar with rolling trays, we're thinking about you. Let's start by getting to know some of the best rolling trays for weed before we break down the FAQs.
1. RYOT Walnut Wood Rolling Tray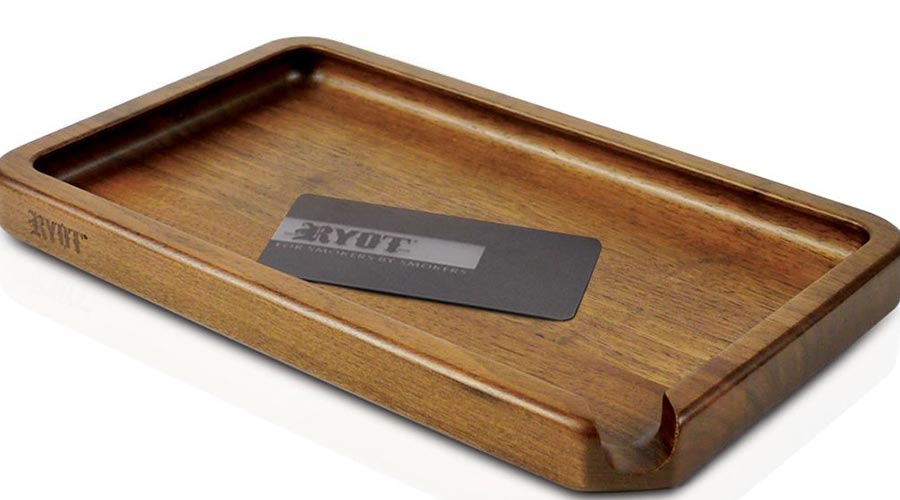 The RYOT Walnut Wood Rolling Tray is an excellent choice for anyone looking for a high-quality and durable rolling tray. Crafted from a solid piece of American walnut, this tray boasts a rich finish that is safe for herbs. The over-vert walls make it easy to scoop herbs for loading papers and bowls, while the polished corner funnel provides an alternative method for loading your bowl, pipe, or cone or unloading leftover herbs into your stash jar. This wooden rolling tray is easy to wipe clean, and checks in at 9 x 5.5 inches for an easy to stash tray with plenty of room for rolling.
2. RAW Spirit Box 

The RAW Spirit Box is the perfect rolling tray with compartments. This combination stasher and magnetic rolling tray is designed with the smoker in mind, offering a top tray with a raised lip on three sides to easily prep, stash, and store your weed and your rolling supplies. With eight multi-sized tip holders for cones or hand rolls, you'll have everything you need to roll up your favorite herbs. The smoothed carve-outs for your papers and other smoking essentials make it easy to keep your rolling station organized and clutter-free. The 12 x 8" RAW Spirit Box also comes packed with a great selection of RAW's most popular cones, classic papers, and filter tips, so you can get started right away with everything you need to get rolling. Best of all, the tray features an embedded rubber gasket to reduce odors and keep your herbs and supplies fresh.
3. Dietrich Art – Maman Brigitte Rolling Tray with Magnetic Lid 
This Sean Dietrich Art rolling tray is a stunning and unique rolling tray that is sure to make a statement in any smoking space. This decorative rolling tray features the voodoo loa Maman Brigitte, the protector of the dead who is known for her love of rum infused with hot peppers, dancing and speaking her mind. The tray comes with a magnetic lid that helps to keep your smoking supplies contained, ensuring that your herbs stay fresh and your space stays tidy. The tray's size is 7 x 10.75″, making it the perfect size for personal or group smoking sessions. The curved edges and high sides make it easy to keep everything in one place, and the limited edition design adds an extra touch of style to your setup. This rolling tray with lid is also easy to clean, so you can keep it looking great for years to come.
4. Backwoods LED Rolling Tray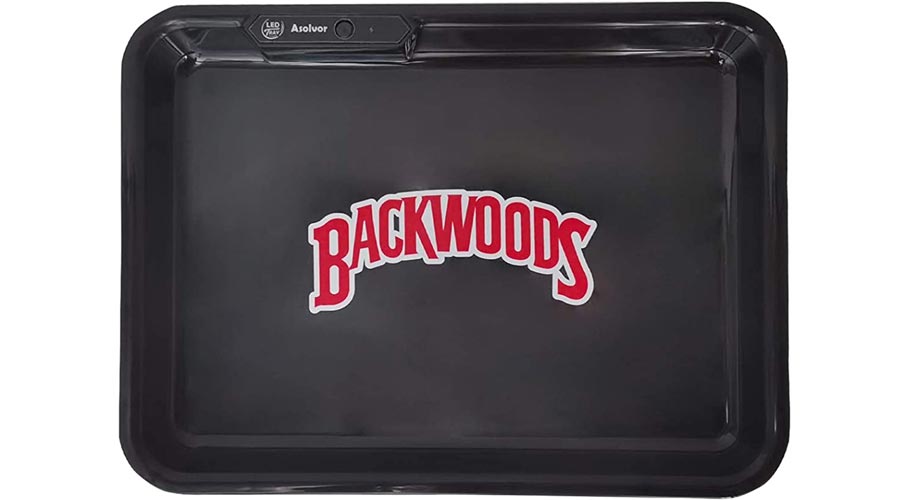 The Backwoods LED Rolling Tray is the ultimate cannabis rolling tray that takes functionality to the next level. Made with eco-friendly ABS material, this tray is non-toxic, wear-resistant and heat-resistant, ensuring that it's safe to use and strong enough to handle whatever you throw at it. The smooth 12 x 8.5" surface is also easy to clean, making maintenance a breeze. With multiple light color options to choose from, you can customize your tray to your color preferences with the touch of a button. The lights make this tray a perfect choice for those who love to roll in the dark. Best of all, this affordable rolling tray comes with a box and a carry bag, so you can take it anywhere and enjoy a good smoke session anytime, anywhere. The quick charging cable and extra-long battery life ensure that you're always prepared to light up any situation.
5. King Palm LED Rolling Tray
The King Palm LED Glow Tray is a glow-in-the-dark rolling tray for weed made with a thick and durable plastic that features deep rolled edges to keep your weed and supplies secure while you roll. The advanced design features bright spot LED lights with six color switching options and a remote control, allowing you to customize the color of the tray to fit your mood when you roll at night. The smooth and flat rolling surface of this LED glow tray ensures that you won't miss a single flake of your weed while you roll. Checking in at 12 X 8.5" with a limited edition design and discreet packaging, this LED rolling tray is sure to become a staple in your stoner kit.
6. Matriarch Jay Mill Wooden Rolling Tray with Compartments 
The Jay Mill Premium Wood Rolling Tray from Matriarch is the perfect way to add style and class to your joint rolling experience. Crafted from real North Carolina black walnut wood, this wooden rolling tray features 2 signature 3-tier herb grinder holders, 5 filter tip holders, 2 rolling paper slots, and a generous compartment for storing finished joints or other tools. The rolling tray also comes with a personalized word engraving option, making it a perfect gift for that special smoker in your life, or, y'know — yourself. Measuring 11 x 7.25, the Jay Mill tray offers a generous rolling surface of 6.5 x 4.125". Best of all, it's backed by a manufacturer's 12-month warranty, giving you peace of mind with your purchase.
7. RAW Wooden Rolling Tray 
The RAW Wood Rolling Tray is a classy, fortified and convenient rolling tray made from wood. While it's simplistic in design, it looks great with practically any setup. Checking in at 11.5" x 7"', this rolling tray is the perfect size to roll and keep everything you need in one place. The tray is also small, lightweight and easy to maintain, making it an excellent addition to your smoking collection. The RAW Wood Rolling Tray also includes a carrying pouch, making it a portable rolling tray that's easy to take with you wherever you go.
8. Marley Natural Walnut Rolling Tray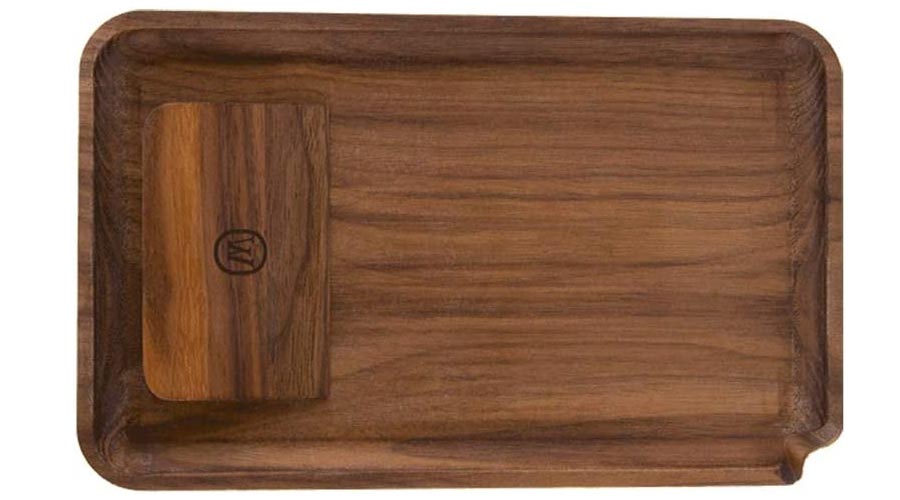 Marley Natural is a household name when it comes to rolling gear. Their Walnut Rolling Tray with Wooden Scraper is a versatile accessory that looks simple and casual, meaning you won't have to hide it when it's not in use. Its stackable design makes it easy to use and store, but the best part is that it comes with a wooden scraper with a built-in magnet which ensures that you never lose your scraper while you're trying to roll your joints again. The 7.5 x 5" tray is supremely portable and made of natural walnut, which makes it very sturdy and resistant to damage, though it isn't dishwasher safe and you'll have to wash and dry it by hand.
9. Cubbi Stash Box with Rolling Tray 
The Cubbi Airtight Box with Tray is the ultimate discreet rolling tray plus stash box combo. With its two airtight silicone seals, you can rest assured that your stash is safely tucked away and odor-proof. The premium hardwood tray acts as a lid, and provides a clean and organized space for rolling. It also features a convenient cutout for brushing away any leftover weed crumbs, ensuring you get them into your cones or back into your stash jar. The airtight box is perfect for keeping all your gear organized and ready to go since it can hold all sorts of things like stash jars, lighters, grinders, and papers. Best of all, Cubbi's grab-and-go design makes it a great portable rolling tray with lid that you can take with you wherever you go.
10. Blazy Susan Stainless Steel Rolling Tray
The Blazy Susan Stainless Steel Rolling Tray is an excellent choice for a portable and durable rolling solution. These metal rolling trays measure 7″ x 9.25″ and weigh only 9oz, making them perfect for both home and on-the-go use. They come in a variety of unique colors, including rainbow, purple and rose gold. They're made of high-quality stainless steel, which makes them super durable and resistant to dings and dents, unlike lower-quality metal rolling trays made from tin. These trays are not only shiny but also functional, making them a great and stylish addition to your setup, especially if you're a little accident prone and looking for something low maintenance and easy to clean.
11. Higher Standards K.Haring Tray
Roll up in style with the K.Haring Tray, a luxury rolling tray featuring the iconic artwork of Keith Haring. Measuring at 12 x 7", this tray is crafted from 3mm thick ultra-white glass and provides ample space for rolling and grinding your favorite flowers. Haring's signature bold lines and contrasting colors are captured on the glass surface, creating a striking visual display that will elevate your rolling experience and improve the atmosphere of your whole setup. The K.Haring Tray comes in a durable box equipped with foam inserts to keep it safe during travel. If you're looking for a luxury rolling tray that is both functional and visually stunning, the K.Haring Tray is the perfect choice.
Why you need a rolling tray 
Rolling trays are an essential tool for anyone who appreciates the art of a good rolled joint or blunt. Not only do rolling trays provide a dedicated space to roll up, but they also improve rolling efficiency by keeping everything organized and within reach. With a rolling tray, you no longer have to worry about making a mess or losing your weed to cracks in your table or having it get stuck to paper plates.
Rolling trays also help minimize the waste of your precious weed by providing a smooth and flat surface to break down and gather every last bit of herb. Rolling on a tray makes it easy to collect any excess and store it for later use. So, whether you're a casual smoker or a seasoned pro, investing in a rolling tray is essential. It not only makes the process more efficient but also helps you keep your rolling area clean and your herb safe.
Rolling tray materials 
Rolling trays come in a variety of materials, each with its own unique features and benefits. Wooden rolling trays offer a classic and natural aesthetic, and are often made from durable materials like bamboo or walnut. They are great for keeping things organized and minimizing waste, as they catch all the loose bits that can fall off during the rolling process.
Metal rolling trays are also popular due to their durability and sleek appearance. They are typically made from materials like stainless steel or tin, and can withstand heavy use without bending or denting. Plastic rolling trays are lightweight and easy to clean, making them a convenient option for those who frequently travel or roll on the go. Finally, glass rolling trays offer a sophisticated look and feel, as well as a smooth and non-porous surface that is easy to clean.
What to think about when buying a rolling tray 
When it comes to buying a rolling tray, there are several factors to consider to ensure that you get the right tray for your needs.
Size
First, consider the size of the tray. Some rolling trays are small and compact, making them ideal for on-the-go use, while others are larger and have more space for holding accessories and materials. It's important to choose a tray that fits your rolling habits and the amount of material you typically use.
Portability
Portability is another key factor to consider when buying a rolling tray. If you plan on taking your tray with you on the go, you'll want to choose one that is lightweight and easy to carry around. Some trays even come with carrying cases or bags to make transportation even easier.
Durability
Durability is also important to consider when selecting a rolling tray. Different materials have different levels of durability, and it's important to choose a tray that can withstand regular use without bending or breaking. Metal and wood trays are often more durable than plastic or glass trays, but the latter may have other benefits such as being easier to clean.
Extra Features
In addition to size, portability, and durability, extra features can make a rolling tray even more functional and convenient. Consider whether you want a tray with compartments for holding accessories, a lid to contain materials and minimize mess, an ashtray for easy disposal of ashes, a scraper for collecting stray material, an attached stash box for storing materials, or even included papers and tools. These features can make rolling easier and more efficient, so think about what would be most useful for your rolling habits.
Taking the time to think about the size, portability, durability, and extra features of a rolling tray can make all the difference in finding the perfect tray for your needs. With the right tray, rolling can be more efficient, cleaner, and more enjoyable.
How much do rolling trays cost?
Rolling trays can range in price depending on various factors such as size, material, design, aesthetics and extra features. Basic plastic and metal trays can be found for as low as $5, while more premium options made of wood, glass or with intricate designs can cost upwards of $50 or more. Rolling trays with extra features like compartments, lids, ashtrays, scrapers, and attached stash boxes will typically cost more than basic trays. The price of a rolling tray can also be influenced by the brand or artist behind it, with some limited edition or designer trays commanding higher prices. All that is to say that ultimately, the cost of a rolling tray will depend on your preferences and budget. You can roll on a cheap one, or opt for something big and artistic with a ton of extra features for more money.
At the end of the day, rolling trays have become an essential accessory for both seasoned smokers and newcomers alike. They provide a clean, organized surface to roll on, increase rolling efficiency, and minimize waste. When it comes to choosing the perfect rolling tray, it's important to consider factors like size, portability, durability, and extra features like compartments, lids, scrapers, and stash boxes. With so many options available, finding the perfect rolling tray to suit your personal preferences and budget is easier than ever. Refer back to our recommendations for the best rolling trays if you're on the hunt for the perfect tray for your needs.