Investing in a quality grinder is a no-brainer.  Sure, you can skimp and grab a cheap import that will clog or break after a few months, or even worse, sprinkle tiny bits of toxic metals into your weed with each use. After reviewing tons of styles and brands, we've compiled a list of the six best weed grinders in 2023. Products from the below brands are made from safe materials, built to last, and ready to take rolling next-level.  Learn more about what to look for a grinder in our in-depth weed grinder buying guide.
1. Flower Mill Grinders
Specs
Name: Flower Mill
Price: $39.99-99.99
Materials: Food Grade 304 Stainless Steel
Grind Type: Milling
At the very top of this list of the best weed grinders is the Flower Mill, which works differently than the standard grinders with teeth. Instead, Flower Mill technology uses plates to gently mill your flower where it pulls apart from itself naturally instead of ripping it apart with metal teeth. Beloved for their ability to grind cannabis to an even consistency, Flower Mills make for an efficient grinder that minimizes waste. Made with food-grade stainless steel and encased in light aircraft grade aluminum, the Flower mill is light, durable and easy to use. Best of all, it's design features precision tolerances that mimimizes metal on metal contact for consistency, efficiency, and a grinder that will work for you for the long haul. At only $100, their Premium Flower Mill comes with the option for a kief collector as well as additional rotor plates to give you more control over your final grind consistency. It's one of our favorite daily drivers, which is why we placed it here at number one.  
2. Phoenician Grinders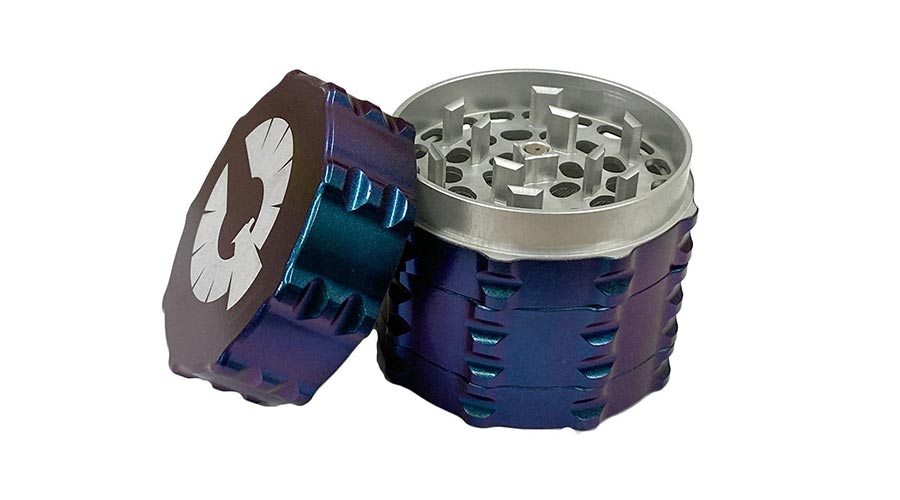 Specs
Name: Phoenician Grinders
Price: $29.99-99.99
Materials: Aerospace-grade aluminum
Grind Type: Grinding
Phoenician Grinders is a company driven by innovation and quality that makes it's way into any selection of the best herb grinders. They took the standard grinder model and took it to new heights with quick-lock threading and razor sharp teeth that shear your herb instead of shredding it to a pulp. The medium-sized Burple Grinder is outfitted with rare earth magnets, replaceable screens, and a beveled chamber that can collect kief and protect your bud as they're being ground up.  While the grinder checks in at $130, it's well worth the price. With it you get four chambers of anodized aluminum, diametrically cut teeth, and trapezoidal drop-through holes, all manufactured in the USA using medical-grade materials.
3. Tahoe Grinder Co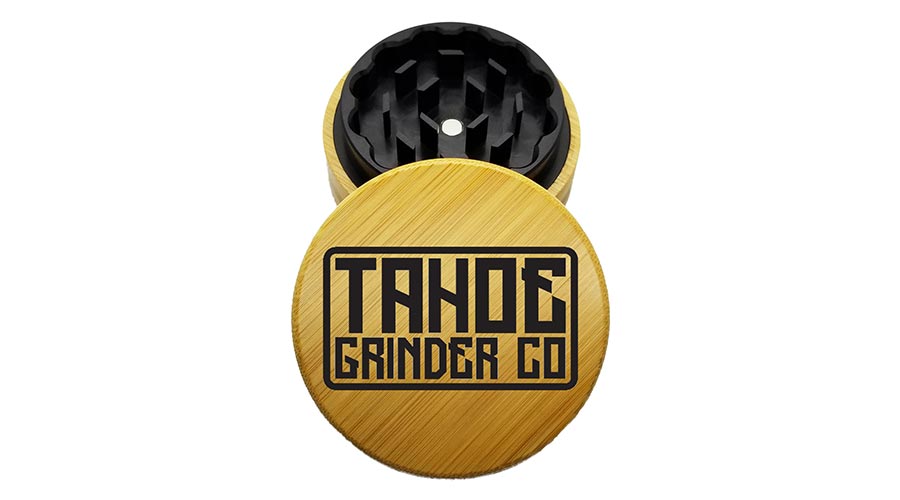 Specs
Name: Taho Grinder Co
Price: $27.99-119.99
Materials: Medical-grade aluminum
Grind Type: Grinding
Manufactured: USA
Next of our list of the best weed grinders comes Tahoe Grinder Co., an exceptionally mindful company that employs a zero-waste policy into everything they design and manufacture. They work with local artists to develop limited edition designs for their grinders, so you can rest assured that each of their USA-made products is designed to suit people from all walks of life. Our favorite grinder is their 2-piece black and bamboo grinder featuring the Tahoe Grinder Co. logo for only $50. It's made using medical grade aluminum, and comes with a lifetime warranty on grinder insert, teeth and magnets. While this design doesn't come with a catcher or a kief collector, we love it since it keeps everything together. However, if a kief collector is a must for you, you can find 3 and 4-chamber grinders that offer the same guarantees on the Tahoe Grinder Co. website.
4. King Palm Grinders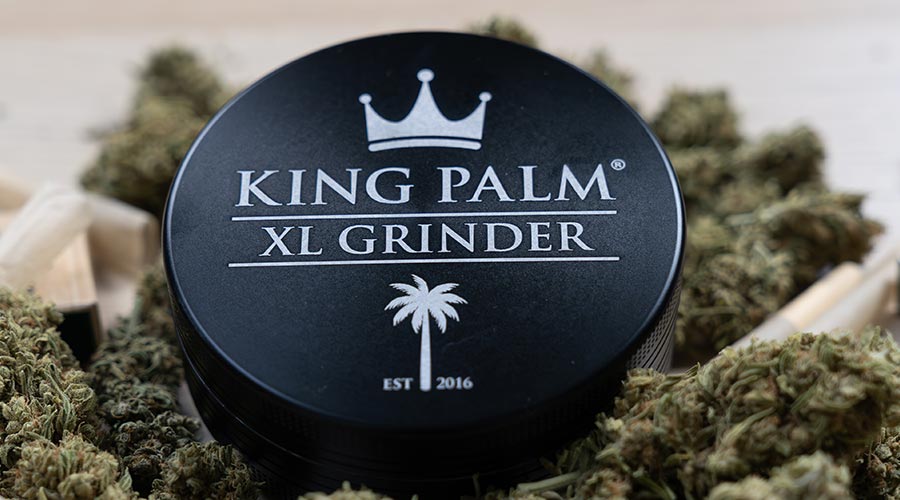 Name: King Palm
Price: $25.00-64.99
Materials: Aluminum
Grind Type: Grinding
While King Palm is primarily known for their extensive line of rolling papers, wraps, tubes and cones – available in every flavor under the sun – their product selection also extends to weed grinders.  King Palm's grinder range spans from their standard 4-piece and the more compact Mars grinder to the XL and more advanced electric models. Their grinders make it easy to achieve a consistent grind and are made using anodized aluminum and a ceramic coating for enhanced durability.
5. Golden Gate Grinders
Name: Golden Gate Grinders
Price: $29.99
Materials: Aircraft-grade aluminum
Grind Type: Grinding
Golden Gate Grinders is a San Francisco USA based company that has changed the face of the grinder game with their unique aircraft-grade aluminum grinders. Each one is precisely machined on computerized CNC machines featuring aluminum teeth that are designed to coarsely grind buds instead of shredding or ripping them. It's magnetic design helps to keep the herbs stored in your grinder fresh while keeping odors inside from leaking out. The 4-piece design separates ground buds from the teeth and also collects kief through a stainless steel screen in the pollen catcher. Best of all, it's sturdy design is nearly indestructible and it offers a nearly silent grind.
6. Santa Cruz Shredder
Name: Santa Cruz Shredder
Price: $28.50-169.99
Materials: Medical-grade anodized aluminum
Grind Type: Grinding
Manufactured: USA
If you've followed us for a while, you've probably seen our Santa Cruz Shredder review. The company itself makes some of the best marjiuana grinders on the market, featuring all sorts of artists, brands, and designs that fully encapsulate the California spirit. Their USA-made 4-piece grinder is made from medical-grade anodized aluminum and features a revolutionary tooth design. It also comes with a rare earth magnet for keeping herb fresh as well as a patented threading system that makes grinding a breeze. Get yours for only $75.
What we love about these grinders 
Each and every grinder on this list comes with a few features every stoner will love. Not only are each of them made in the United States, their patented designs are exceptionally durable and sturdy compared to the rest of the grinders out there. We picked these six grinders since they are all easy to clean and use, made with safe materials, offer a coarse and fluffy grind, and either come with a product guarantee or are built to last or offer interchangeable parts. With that said, if you're on the hunt for a grinder or you're just ready to ditch your cheap ones, you can't go wrong with these.
What are the benefits of using a weed grinder? 
As we mentioned, grinders are some of the most important tools available to flower smokers. While you can get by without one, having one around makes life easier in numerous different ways.
Grinds your weed into a consistent form: Grinders are able to break your flowers down into small, consistent pieces that roll up better and burn more evenly. A grinder is essential if you prefer to roll your cannabis up into blunts or joints, though they also make bongs and pipes burn more evenly. You'll find that the best cannabis grinders provide a more even grind than cheap grinder models.
Allows you to get more out of your flower: The act of grinding brings the best aromas out of your weed. Mechanically breaking buds down with your fingers damages the structural integrity of your trichomes and resin glands, which holds your THC and terpenes.  Grinding on the other hand separates more gently, preserving the integrity of your flowers and encouraging the best scents and flavors from your smokable flower.
Saves bud: Grinders utilize every piece of the flower and break them down into consistent small pieces. These pieces go a lot longer than flower broken up in other ways since they burn longer and more evenly. Further, grinders can also collect kief, which makes a great bowl topper and can help you postpone a trip to the dispensary.
Saves time and effort: Without a grinder, it's difficult to get a decent grind on your weed. Whether you use your fingers or a pair of scissors, it's difficult to get an even, consistent grind without spending a lot of time in the process. A grinder on the other hand is quick and easy. You just load up your flower, give it a couple of twists, and your ground flower is ready to be smoked.
Different Grinder Materials: Pros and Cons 
The first thing to consider when purchasing a new grinder is the material that it's made out of. Grinders come in all different shapes and sizes and come in many different materials including ceramic, metal, wood and plastic. However, for all intents and purposes, the best grinders are made from wood, metal and acrylic. While a plastic or ceramic grinder would serve you in a pinch, they tend to break easily and wear out quickly, making them an unworthy investment. Here's an in-depth guide to the big three.
Metal Grinders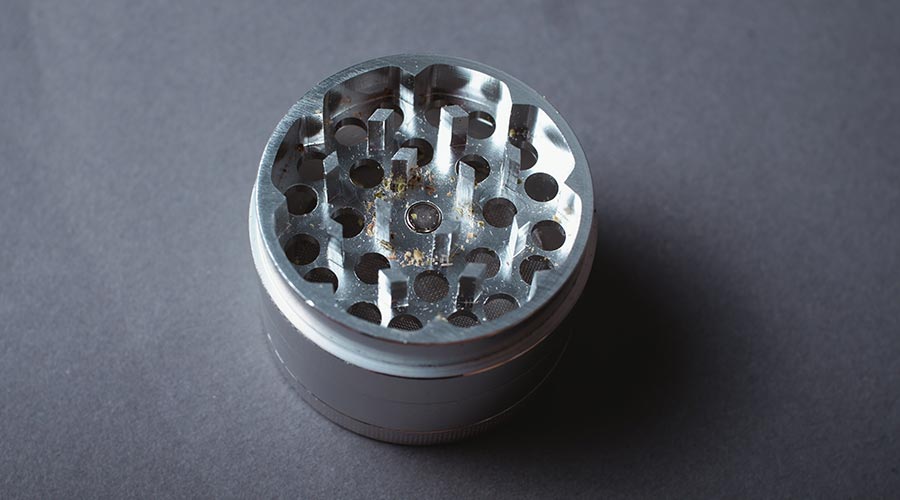 Metal grinders should only be made from stainless steel or aluminum. Other metals run the risk of burring with prolonged use or rusting with exposure to the elements, making them dangerous to run your weed through. That said, there's a lot to like about using a metal grinder. They're heavyweight and make grinding a breeze, and they're easy to clean. They also come in a variety of different colors and designs, producing lots of different consistencies to your weed.
Pros:
Good weight
Easy to clean
Long-lasting
Laser-cut teeth that don't need to be resharpened
Cons:
Prone to getting jammed and sticky without regular maintenance
Wood grinders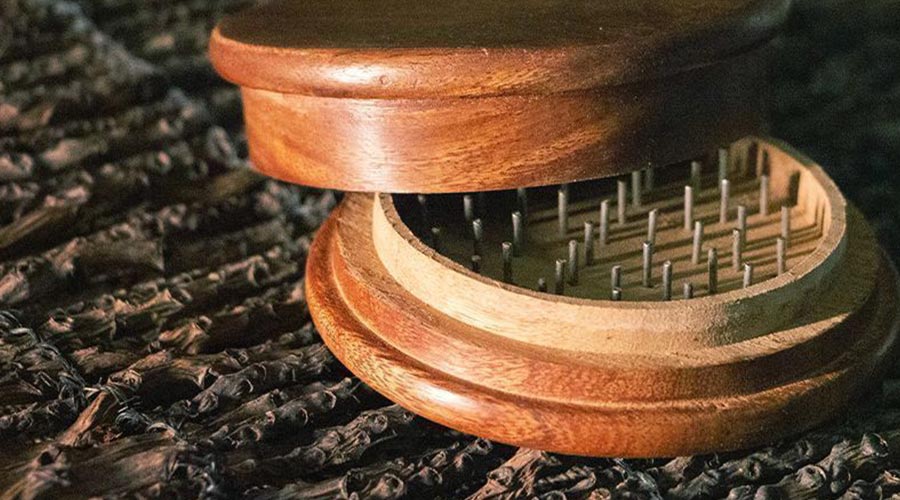 Wooden grinders are typically made from bamboo or other polished, treated woods. They look great with any natural setup and grind weed just as well as any other grinders using carved wooden teeth or laser-cut metal teeth. Wooden grinders are lightweight and come in all different sizes and shapes. They're also less likely to get jammed up with resin gunk with regular maintenance.
Pros:
Lighter weight
Sturdy teeth that don't need to be resharpened
Less likely to jam
Come in many different designs and patterns
Cons:
Difficult to clean and maintain while protecting the longevity of the wood
Acrylic Grinders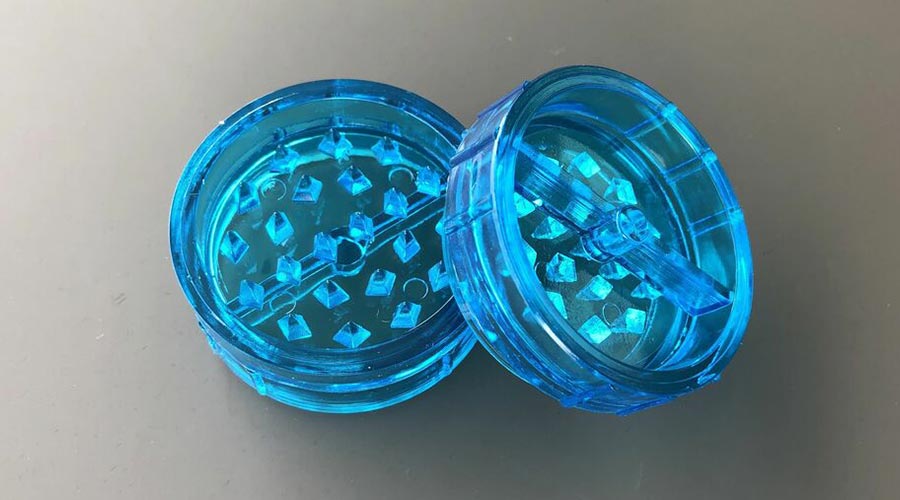 Acrylic grinders are grinders made from a strong plastic. They're lightweight and durable, though with a lot of use the teeth may break faster than the teeth of wood or metal grinders. Acrylic grinders are also some of the easiest grinders to clean, and come in many different colors and designs.
Pros
Easy to use and clean
Come in many different designs and colors
Long lasting
Strong sharp teeth
Cons:
Teeth may break with prolonged use
How many chambers do you need? 
When purchasing a grinder, you'll find many grinders listed as 2, 3, or 4-pieces. Each piece, or chamber, serves a purpose within the grinder. The number of chambers you need will depend on your personal preferences and what you'd like your grinder to do.
2-piece: these are 2-chamber grinders. They contain the two pieces of the grinder itself without a storage compartment and are ideal for people grinding just enough to roll into a joint or pack into a bowl for immediate use.
3-piece: these are 3-chamber grinders. They contain the two pieces of the grinder, and a third chamber for collecting and storing ground flower. They are ideal for people who like to keep pre-ground flower on hand during a smoke sesh.
4-piece: these are 4-chamber grinders. They contain two pieces of the grinder itself, along with a third chamber for collecting bud, and a fourth chamber for collecting kief. They are ideal for people who like the added benefit of catching kief and saving bud.
Other things to consider when buying a grinder
Everyone's ideal grinder will be different based on their personal preferences or intended uses. Here are a few other things to consider when buying a grinder:
Size 
Size is your number one consideration. If you're a solo-smoker, odds are you're going to need a smaller, more portable grinder. However, if you know you're going to blow through a lot of product with your grinder, a larger one might make more sense.
Manual or electric
While manual grinders are the standard, electric grinders are great if you have a lot of herb to grind in a short amount of time. If you make your own pre-rolls, an electric grinder can help streamline the process for you. On the other hand, manual grinders are excellent for their portability. They take a little bit of elbow grease, but if you aren't blowing through massive quantities of weed, they're your better bet.
Kief collectors 
If you're torn between a 3-chamber and a 4-chamber grinder, think about whether or not you want to collect kief. Kief is leftover trichome glands from the weed you run through your grinder. They are considered a solventless concentrate and make a great addition to bowls or joints. However, kief can also be pressed into hash, which is a great concentrate for smoking or dabbing. A grinder with a kief collector can help you get the most out of your weed and make it possible to save more money at the dispensary. However, they also take up space in your grinder. Omitting the kief collector makes it possible to have a larger catch chamber for your ground bud, keeping the kief in with each batch of flower.
Grinding vs milling 
Grinding involves using teeth to separate and break down plant materials, including flowers and stems. Milling on the other hand involves friction and separating plant materials into smaller pieces where they'd naturally separate, excluding the stem. While grinding is a great catch-all option, a lot of smokers are starting to prefer milling since its more gentle on the flower itself. Milling grinders (such as Flower Mill Grinders) do the same thing as traditional grinders, though they offer more consistent results a little bit faster.
Bells and whistles 
There are lots of optional things you can find in grinders. For example, magnetic closures prevent grinders from opening and spilling during transport. Others come with odor-proof chamber linings, dispensers, and kief scrapers. Some can be airtight and watertight or come with a hand crank for grinding. There has been a lot of innovation conducted on the simplistic design of standard grinders, so be on the lookout for features that might come in handy for you.
And there you have it, the best weed grinders in 2023 and what to look for when you're buying one. Let us know which you go for.