Investing in a quality grinder is a no-brainer.  Sure, you can skimp and grab a cheap import that will clog or break after a few months, or even worse, sprinkle tiny bits of toxic metals into your weed with each use. After reviewing tons of styles and brands, we've compiled a list of the six best weed grinders in 2023. Products from the below brands are made from safe materials, built to last, and ready to take rolling next-level.
Learn more about what to look for a grinder in our in-depth weed grinder buying guide.
1. Phoenician Grinders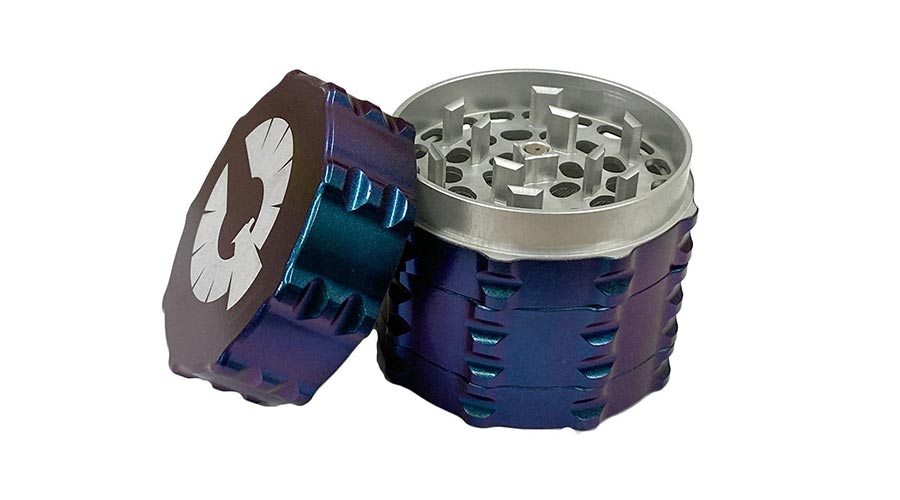 Phoenician Grinders is a company driven by innovation and quality that makes it's way into any selection of the best herb grinders. They took the standard grinder model and took it to new heights with quick-lock threading and razor sharp teeth that shear your herb instead of shredding it to a pulp. The medium-sized Burple Grinder is outfitted with rare earth magnets, replaceable screens, and a beveled chamber that can collect kief and protect your bud as they're being ground up.  While the grinder checks in at $130, it's well worth the price. With it you get four chambers of anodized aluminum, diametrically cut teeth, and trapezoidal drop-through holes, all manufactured in the USA using medical-grade materials.
2. Tahoe Grinder Co
Next of our list of the best weed grinders comes Tahoe Grinder Co., an exceptionally mindful company that employs a zero-waste policy into everything they design and manufacture. They work with local artists to develop limited edition designs for their grinders, so you can rest assured that each of their USA-made products is designed to suit people from all walks of life. Our favorite grinder is their 2-piece black and bamboo grinder featuring the Tahoe Grinder Co. logo for only $50. It's made using medical grade aluminum, and comes with a lifetime warranty on grinder insert, teeth and magnets. While this design doesn't come with a catcher or a kief collector, we love it since it keeps everything together. However, if a kief collector is a must for you, you can find 3 and 4-chamber grinders that offer the same guarantees on the Tahoe Grinder Co. website.
Golden Gate Grinders is a San Francisco USA based company that has changed the face of the grinder game with their unique aircraft-grade aluminum grinders. Each one is precisely machined on computerized CNC machines featuring aluminum teeth that are designed to coarsely grind buds instead of shredding or ripping them. It's magnetic design helps to keep the herbs stored in your grinder fresh while keeping odors inside from leaking out. The 4-piece design separates ground buds from the teeth and also collects kief through a stainless steel screen in the pollen catcher. Best of all, it's sturdy design is nearly indestructible and it offers a nearly silent grind.
4. Mendo Mulcher
Mendo Mulcher is a truly American company, and each of their grinders features twice the amount of teeth to allow for a more coarse grind than most other grinders. Each one is made from aircraft aluminum and CNC machined to the correct size. Their 4-piece grinder has a fantastic sturdy weight to it, and it's built to last. The 4-piece grinder comes with a kief collector and a 190-micron screen built to handle practically any type of herb. It's also extremely easy to clean and grinds smoothly with very little pressure. You can get one for yourself for the low cost of $50.
If you've followed us for a while, you've probably seen our Santa Cruz Shredder review. The company itself makes fantastic aluminum grinders and features all sorts of artists, brands, and designs that fully encapsulate the California spirit. Their USA-made 4-piece grinder is made from medical-grade anodized aluminum and features a revolutionary tooth design. It also comes with a rare earth magnet for keeping herb fresh as well as a patented threading system that makes grinding a breeze. Get yours for only $75.
6. Space Case
Space Case is a household name in the grinder game, and with good reason. With over 20 years of experience and with the constant refining of their designs, you can't go wrong with American-made Space Case grinders. Each one features proprietary diamond-shaped teeth that allow for multi-direction grinding. The 4-piece grinder is made from aircraft-grade aluminum and comes with a stainless steel screen for kief collecting. Best of all, it'll only run you $50 and comes with a lifetime warranty, so it'll be the last grinder you ever buy.
What we love about these grinders 
Each and every grinder on this list comes with a few features every stoner will love. Not only are each of them made in the United States, their patented designs are exceptionally durable and sturdy compared to the rest of the grinders out there. We picked these six grinders since they are all easy to clean and use, made with safe materials, offer a coarse and fluffy grind, and either come with a product guarantee or are built to last or offer interchangeable parts. With that said, if you're on the hunt for a grinder or you're just ready to ditch your cheap ones, you can't go wrong with these.