Vulcan Grinders have emerged as a game-changer for herb lovers everywhere. These little beauties offer an unparalleled level of precision and functionality, making them easily one of my favorite grinders out there. In this guide you can explore the company and learn everything you need to know about the patented tech that makes Vulcan Grinders so special.
The skinny on Vulcan Grinders 
Vulcan Grinders was founded to make weed grinders a lot more inclusive for people who need them. Classic manual grinders can be hard for people with conditions like Parkinson's, arthritis, or carpal tunnel syndrome to use, so the founder of the company set out to make something that worked effortlessly. The final result was a fully magnetic grinder made from rare earth magnets and aerospace-grade aluminum that delivers a superior grind and components that are built to last.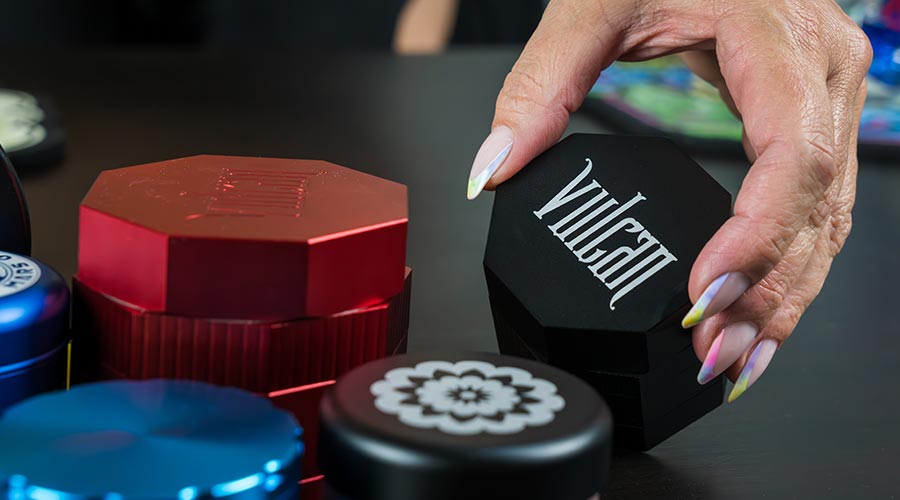 The patented design was developed to work and look great. To bring this concept to life, the founder sought the expertise of a young architect student who translated the ideas onto paper. Subsequently, a design engineer joined the team, and together, they built the first prototype. It took meticulous planning and multiple iterations, spanning over 18 months and four molds, to achieve the final and groundbreaking Vulcan Grinder you see today.
Key Features
There's a lot to love about Vulcan Grinders. Below we're breaking down each feature so you can get the full picture.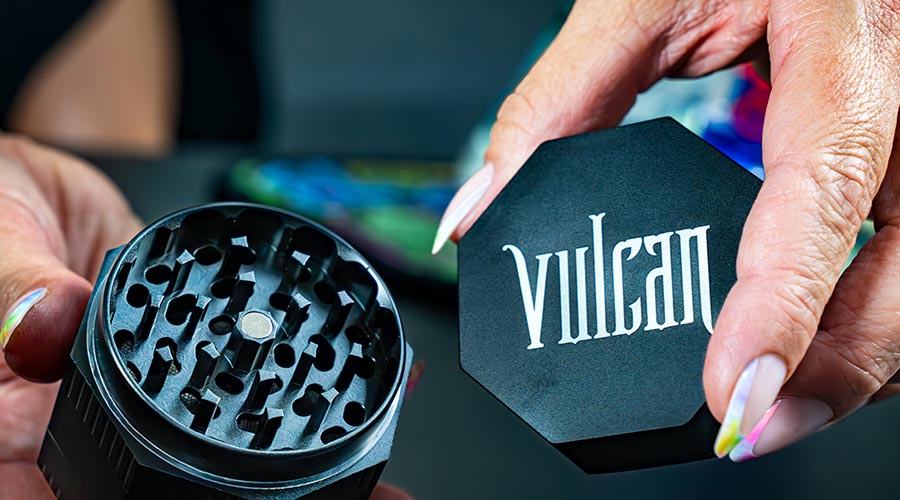 Aerospace-Grade Aluminum
Vulcan Grinders are crafted using high-grade aerospace aluminum, ensuring durability and longevity. This premium material is sturdy but lightweight, resistant to corrosion, and able to withstand stress use after use. That being said, it's easy to take with you anywhere you go and it's precise teeth guarantee a reliable and consistent grind time after time.
Rare Earth Magnets
These grinders incorporate rare earth magnets, which contribute to their fully magnetic design. These compact magnets offer an extra-strong magnetic field and are some of the longest lasting magnets available. They help to securely hold the different components of the grinder together, which makes the grind smooth as butter and easy to use.
Patented Design
The Vulcan Grinder boasts a patented design that is genuinely unique and unparalleled. The octagonal shape enhances grip and control, allowing for effortless grinding. Additionally, the ergonomic design minimizes hand fatigue, making it an ideal choice for people with arthritis or carpal tunnel syndrome who need to get their medicine ground up for use.
Removable Magnetic Screens
One of the standout features of Vulcan Grinders is the inclusion of removable magnetic screens. These screens come in two different sizes: 45mm and 25mm, which make it possible for you to customize the grind in your kief collector from coarse to fine.
Lifetime Warranty 
All Vulcan Grinders come with a lifetime warranty. If anything goes wrong with your grinder, they'll replace it for you for free and cover shipping costs. The warranty doesn't cover cosmetics or normal wear and tear, but it ensures you'll always have a functioning Vulcan.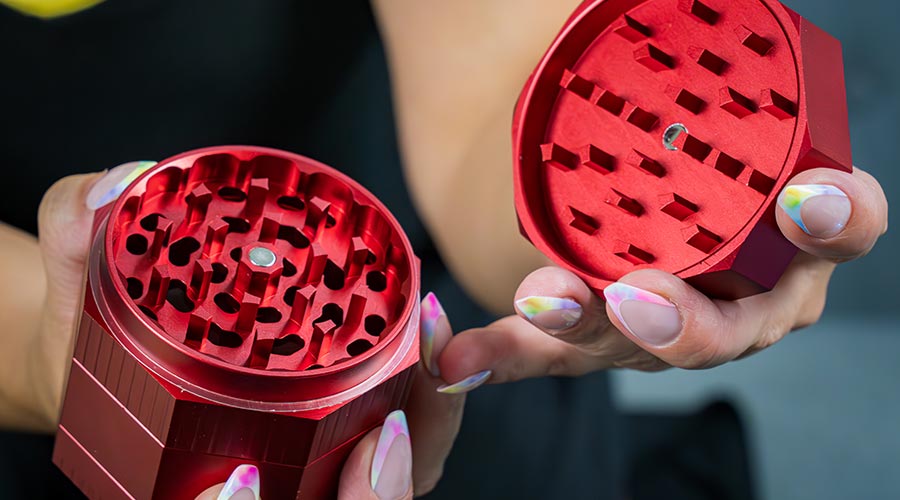 Wallet Friendly
Vulcan Grinders range from $35 to $80, depending on the size you choose. Each Vulcan is a 4-chamber grinder, but you'll pay a little more based on size. The smallest (46mm) size is the most affordable at $35, and the largest (75mm) is the most expensive at $79.99.
Color Options 
You can customize your setup with tons of different Vulcan colors to choose from. Opt for a solid black, silver, red, blue, green, or yellow grinder, or choose a multi-color option.
Custom-Made Scraper
All Vulcan Grinders come with a custom-made scraper that can be used to make sure you get every last flake of flower or kief from the grinder. The scraper is custom fit to the grinder design, ensuring that you leave no residue behind for both convenience and cleaning.
Sizes
Vulcan Grinders are available in various sizes to cater to different needs. Whether you prefer a compact and portable option or a larger grinder for more substantial grinding quantities, Vulcan has you covered. The range of sizes are great if you want larger or smaller capacity or more or less discretion. It's always a good idea to avoid overfilling the grinder though, it helps with consistency and with keeping your grinder in good condition.
46mm Vulcan Grinder: 4 chambers with 2 magnetic screens and scraper. Holds about 2-3 grams of flower. $35
56mm Vulcan Grinder: 4 chambers with 2 magnetic screens and scraper. Holds about 3 grams of flower. $50
66mm Vulcan Grinder: 4 chambers with 2 magnetic screens and scraper. Holds about 3-4 grams of flower. $65
75mm Vulcan Grinder: 4 chambers with 2 magnetic screens and scraper. Holds about 4-6 grams of flower. $80
At the end of the day, Vulcan Grinders have redefined the grinding experience with their exceptional design, precision engineering, and innovative features. Crafted from aerospace-grade aluminum and incorporating rare earth magnets, these grinders offer durability, convenience, and reliability. The patented octagonal shape, ergonomic grip, and removable magnetic screens have made it one of my favorite grinders. With their commitment to quality and a lifetime warranty, Vulcan Grinders provide people with a grinding experience that is second to none. If you're ready to explore them for yourself, head to the Vulcan Grinders website to see for yourself why they're one of the best weed grinders on the market.