Want to explore some of the best dispensaries in America on your next road trip or visit to the states? Check out our top seven picks— all of which offer excellent atmosphere, product selection, and more importantly, great deals for first timers.
1. Paper and Leaf, WA 
Paper and Leaf is one of the most beautiful dispensaries on this list, boasting gorgeous wooden accents, steampun edison light fixtures, and broad oak tables that you can use to browse their massive selection of products. This fully recreational cannabis shop is open for adult patrons over the age of 21 and offers huge savings for first and repeat customers. You can find this high end art gallery slash pot shop on Bainbridge Island in Washington state.
2. The High End, CA 
The High End is exactly as the name would suggest— the number one high end dispensary in California. Located in Los Angeles, this dispensary is a luxury brand and wellness concept shop that looks a lot like a really expensive jewelry store than a pot shop. However, the price tags are beyond reasonable. Check it out for its gorgeous glass and marble displays and check out a huge list of products. Their friendly budtenders will help you find the perfect products for any occasion.
3. Diego Pellicer, CO 
Diego Pellicer is a must see destination in Denver, Colorado. This dispensary offers a top of the line luxury feel where you can find beautiful marble floors, hardwood display cases and lots of beautiful art and foliage. They carry some of the best brands in Colorado, including Olio and Green Dot among more luxury items like cannagars. Like the others on this list, they also have a great selection of deals for first timers.
Related: Best dispensaries in Denver
4. Med Men, NY
Based on fifth avenue in New York City, MedMen describes itself as "the apple store of weed." Their clean, modern vibe matches that description perfectly, with their broad white walls, minimalistic displays, touchscreen menus for ordering, and lovely exposed brick fixtures. Their selection can't be beat, either. So if you're in town shopping, you might want to stop here and spoil yourself.
5. Serra, OR 
If you're visiting Portland, you won't want to miss Serra. Serra is a modern and bright dispensary that is designed to feel very upbeat and trendy. The entire place boasts high ceilings, beautifully tiled floors, and gorgeous triangular display cases made of wood. You'll also find a massive selection of products and great specials for first timers. Best of all, their High Quality Drugs sign on the ivy wall is perfect for Instagram.
6. Dispensary 33, IL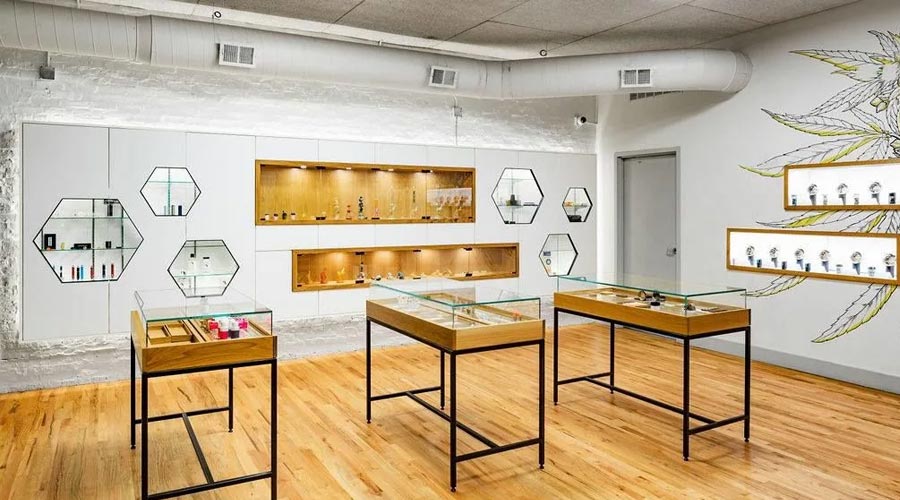 Found in Uptown, Chicago, you've got to stop in and see Dispensary 33. The place looks like a trendy urban boutique with lovely cannabis murals, clean white brick walls, and warm wooden floors.It completes the vibe with wide windows and plenty of natural lighting alongside gorgeous hexagonal display cases and mirrors. They have impeccable service, to boot. If you're looking for just about anything you'll find it at Dispensary 33.
7. Bud and Bloom, CA 
Bud and Bloom is found in Santa Ana and offers a mellow coffee shop vibe complete with exposed pipes and rafters. It offers the perfect blend between industrial realness and modern elegance, which is especially highlighted in their products. You can find pretty much anything you could ever want here, along with great deals and friendly service.