Why waste time, energy and most importantly, money trying to put together a Frankenstein rig setup when you can just opt for a complete kit? Below we're reviewing our top three picks for high-quality, all-in-one dab rig kits from Yo Dabba Dabba.
Not only that, for a limited time only we've teamed up with Yo Dabba Dabba to provide our readers with an exclusive promo code for a 25% discount on products. Learn more below.
Complete Rig Sets: Lots to Love 
There's a lot to love about opting for a complete dab rig set over picking and choosing different pieces for your setup as you go. For starters, it's just so much more convenient. At headshop prices, purchasing each item individually can run you a total of $500 or more. While that experience is nice when you're looking for custom glass or more artistic setups, the average dabber or beginner is looking for a dab rig setup that works well and doesn't break the bank.
Dab kits are great because they come with everything you need in one complete package and won't cost you an arm and a leg. It's convenient to not have to spend a day and a bundle of money shopping for the perfect items when you can have them all ready to go in five minutes.
Dab Rig Sets by Yo Dabba Dabba 
Out of all of the pre-packaged rig sets we've explored, we're really excited about Yo Dabba Dabba's versions. Their kits come in three different varieties, which gives you a little more control over the aesthetics without all the time spent shopping. More importantly, each one is made from high-quality glass, so they're made to work for the long haul. We're diving in depth to what's included with each of them below.
1. Can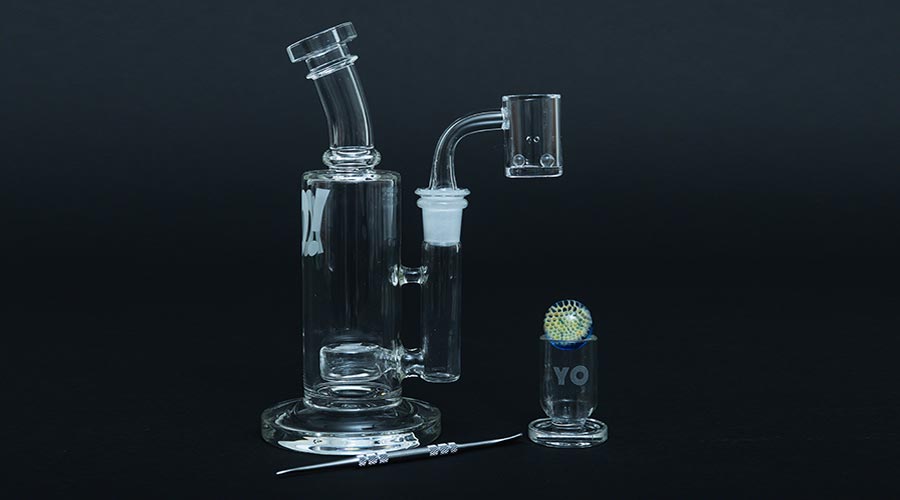 The Can Rig Set comes complete with a heavy-duty dab rig, which comes complete with a disc percolator. The set also includes a 25mm auto spinner banger, which is designed to swirl the two included terp pearls with ease for better heat distribution and more potent flavors. Best of all, it comes with a spatula dab tool, which is great for all intents and purposes, as well as a honeycomb sphere cap and a stand to hold it.
2. Klein
The Klein Rig Set comes with the Klein dab rig, which is a recycler with a disc percolator and an extra chamber for some of the best filtration and diffusion you can get on a mid-sized dab rig. Like the Can set, the Klein set also comes with a 25mm auto spinner, the terp pearls, the spatula tool, the honeycomb sphere cap, and the glass cap stand.
3. Swiss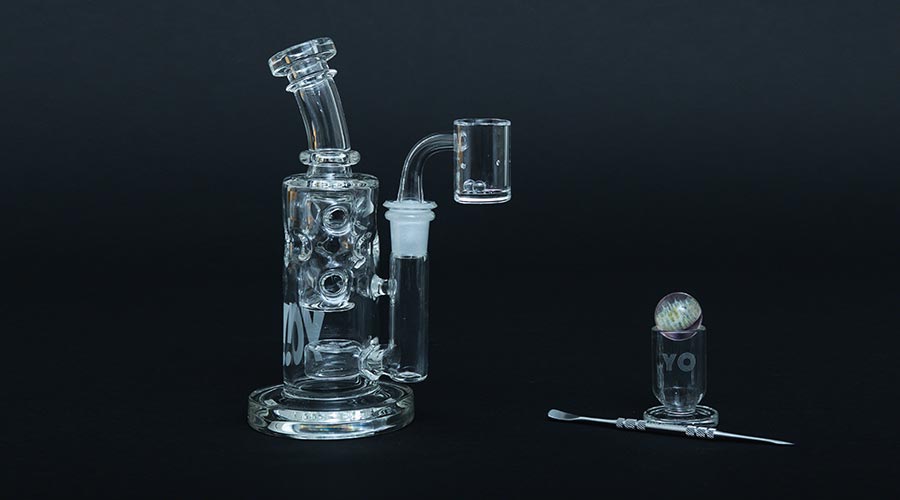 The Swiss Rig Set comes with the Swiss dab rig, which is similar to the Can rig but with an enhanced aesthetic appeal. Like the rest of the sets on this list, it also comes with the 25mm auto spinner, the terp pearls, the spatula tool, the honeycomb sphere cap, and the glass cap stand.
Where to buy it
The cool thing about all of these sets is that they're complete with everything you need, minus the torch and your favorite concentrates. If you're new to dabbing or just don't feel like shelling out a fortune, these sets have you covered. You can use each of them to amplify your dabbing experience with a sturdy rig that pulls well, retains heat and promotes the best flavors and vapor quality available. You can get yours at Yo Dabba Dabba.
Exclusive Stoner Things Discount
To take advantage of our exclusive 25% discount on all Yo Dabba Dabba products, visit Yo Dabba Dabba and use code STONERTHINGS at checkout. Click here to apply the coupon automatically. The promo code is valid until the end of April 2023.