An Alaska woman went on a synthetic marijuana binge at a Subway sandwich shop and then tore the place apart, police said.
The Daily Mail, a British newspaper, reports the woman entered a Subway shop in Anchorage, Alaska, about 5 p.m. Oct. 13 and locked herself in the bathroom. She was fully clothed when she went in. When she came out, two hours later, she was naked, enraged, and apparently high out of her mind.
"People described her as 'a little crazy,'" said police Sgt. Shaun Henry. "She disrobed, went fully nude, and kinda just went nuts."
The woman overturned tables and chairs, tore up a condiments station, destroyed a computer monitor, threw food, and spread trash across the floor. Frightened employees called police about 7:30 p.m. By the time officers arrived, the woman – who wasn't publicly identified – had broken furniture and pulled tiles out of the ceiling.
The paramedics who treated the woman at the scene told police she was probably high on Spice, a common street name for synthetic marijuana. The woman apparently spent her time in the bathroom smoking Spice, which can cause psychosis and severe aggression in users.
Heavily intoxicated
Workers said they also found human feces on the floor of the bathroom. The woman was transported to the hospital after police determined she was heavily intoxicated with an unknown substance.
The woman "started breaking furniture, destroyed the store, knocked over computers, ripped the ceiling down, sprayed a fire extinguisher all over, locked herself in the bathroom for a while, broke just about everything you could find," Henry said.
Police said the woman didn't hurt anyone but caused extensive damage to the Subway store. She now faces felony charges, they said.
Born in a research lab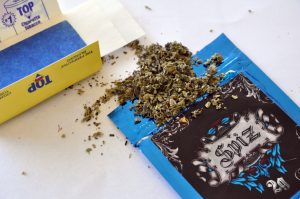 Synthetic cannabis is a recreational drug born in the laboratory. It is designed to mimic the chemical structure and effects of real weed, but it's cheaper, easier to get in many places, and doesn't trigger positive results on drug tests.
The high of Spice is similar to that of real pot, but the side effects can be deadly. They include rapid heartbeat, hallucinations, vomiting, and seizures, among other serious health problems. The key risk with Spice and other "brands" of synthetic weed is that there's no way for a user to know what they're made of. One batch could lead to a pleasant high while the other could cause a heart attack.
Officials across the United States are pushing back against a recent uptick in synthetic marijuana use, though the problem is worse in the Northeast. Spice has been blamed for several deaths in the past year, but conclusive data on the drug and its casualties is hard to find.