A recent rash of health problems sparked by dangerous synthetic marijuana may be spreading across the country.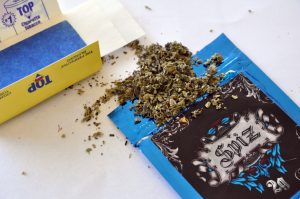 Police in Wisconsin said five men overdosed on synthetic weed – variously known as Spice, K2, research chemicals, designer drugs, and bath salts – and could easily have died.
The report came from Lancaster, Wis., where police said they responded to a report of a person having a seizure. When they arrived, they immediately spotted another seizure victim. Three other people were experiencing milder symptoms.
"At first we didn't know what we had," said Sgt. Justin McLimans of the Lancaster Police Department. "The first one came in as someone was seizing, then when the officer found the second person was doing that, we knew something was going on and it wasn't good."
Five men were hospitalized
Apparently, police said, the five men shared a batch of synthetic weed and became violently ill. All five were hospitalized and treated for overdoses. The youngest victim was 15, the oldest 55.
"We believe that the two who had the strongest reactions to the synthetic marijuana possibly could have died if they didn't get help," McLimans said.
The two men seized, lost consciousness, vomited, and became combative, police say. Paraphernalia used to smoke synthetic pot were found in the basement where the men were rescued.
Synthetic marijuana is already common in many parts of the country, including the East Coast, where a recent rash of overdoses left dozens hospitalized and at least one person reported dead. But the substance is relatively new to the rural Midwest.
First incidents in Wisconsin
McLimans said he's only seen the stuff in town once before. But Dane County cops say it's becoming more common.
"Because batches of this stuff are coming in, and particular batches can be particularly dangerous, this sort of thing is not unusual," said Lt. Jason Freedman of the Dane County Drug Task Force.
Synthetic marijuana is made in laboratories. Its chemical structure mimics that of marijuana, and it can produce a high somewhat similar to that caused by THC. But it is also known to produce nasty side effects: erratic blood pressure, tachycardia, seizures, even death.
Freedman said the biggest concern for users is that they have no way of knowing how the drug was made, or even what's in it. Where one dealer's product could get you high, another's could wreak havoc.
Lack of quality control
"You could literally buy two packages, one package gives you a mild buzz, the other package could cause you to overdose and die," he said. "There's no quality control."
Police have been accused of hyping the danger of lab-born drugs with scare tactics, but even public health experts agree the current popularity of synthetic weed is a big problem.
"Since this incident happened, we're now aware that it's a little more prevalent in our county, it's something we've got to get out and do some education on," said Jeff Kindrai, director of the Grant County Health Department.
Police said they plan to focus much of their efforts on young people. Synthetic pot is especially attractive to teenage users because it's cheap, it's easy to get, and unlike weed, it doesn't trigger positive drug test results.