It's Halloween, 2013, and you're racking your mind for a creative costume. That's where Stoner Things comes in; we're here to help you take any generic costume and stonerify it. Here's five popular costumes and a detailed set of instructions on how to make them awesome (and high). Happy Hallo-weed everyone!
1. High Baseball Player– Be the best HITTER of BLUNT balls ever!
Baseball players are always relevant, but don't you want to be the only batter with a .420 hitting average? Here's how.
How to Stonerify: Get one of these and then a bat (or long piece of wood, several tubes from paper towels, etc.). Wrap toilet paper around the bat so that it's thicker in the middle and narrow at the ends. Use a lighter to burn the tip a little (make sure you're prepared to quickly douse the flames). For an extra touch, where lime shoes/socks and tell people you "play for the Green Sox."
Men's costume here.
Women's costume here.
2. 50 Shades of Gray, meet 50 Strains of Green
How to Stonerify: Get green paint sticks instead of grey and wear a green hoodie. People will get the joke and think you're awesome, and meanwhile you can assure them that the more erotic parts from the novels can still happen on Halloween night.
3. East Bake Oven
How to Stonerify: This one probably requires the most work, but if you're up for the challenge you'll have a winner. Obstruct the bun picture and slogan by either removing it or taping cardboard over it. Use a stencil to spraypaint a pot leaf where the bun was and "Easy Bake Oven" where the caution warning was. Instant success!
Costume here.
4. Group costume: Three Little Pigs and the Big Bad High Wolf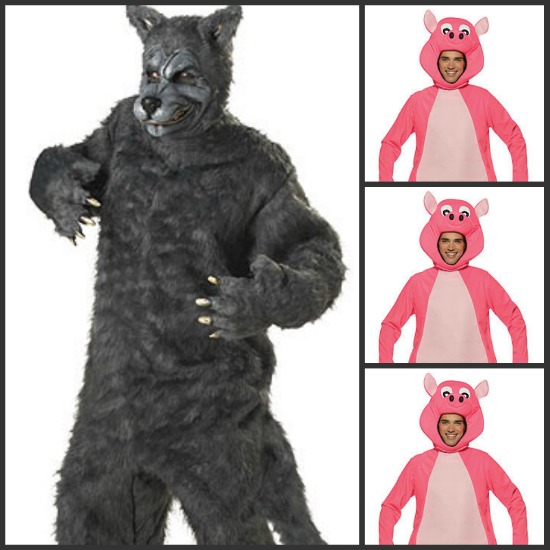 There's something oddly great about taking a children's story and turning it into an homage for marijuana.
How to Stonerify: Easiest of all, create a big, fake blunt or joint using a toilet paper tube; wrap the toilet paper around the tube (make sure it's thick in the middle and tapered at the ends) and then burn one end slightly. Glue the joint to the wolf's mouth and you're done! Make sure all four people are buddy-buddy all night long and when someone says something, just explain that, "The big bad wolf was too busy PUFFING to blow anything down."
Wolf costume here.
Pig costume here.
5. Green Lantern
How to stonerify: Order the costume of your choice and use green felt or construction paper to make a pot leaf. Glue the shape over the Green Lantern symbol and voila, you are the "Green" Lantern!
Men's costume here.
Women's costume here.