Boston police have asked a judge to issue criminal charges against a prominent legalization advocate.
The Boston Police Department petitioned a magistrate judge in January to approve criminal charges against Bill Downing, a longtime supporter of statewide cannabis reform. Downing's attorney says the police complaint is retaliation for criticism against regulation of the state's new medical marijuana industry.
The judge was scheduled to issue a ruling after Jan. 19, based on the complaint filed that day in Boston Municipal Court. Police want to charge Downing with multiple counts of distributing a class C substance (including cannabis concentrates) and distributing marijuana.
Attempt to silence a vocal marijuana reform advocate
"This is pushback against the marijuana legislation movement," said John Swomley, Downing's lawyer. Swoley said he would fight the charges. "They are trying to silence the most vocal supporter of the legalization of marijuana."
In a separate affidavit requesting a search warrant, police say Downing "is using medical marijuana laws to conceal his illegal activities of distribution of marijuana and its extracted by-products."
Massachusetts adopted medical marijuana in 2012, but the program got off to a rocky start, with allegations of corruption and mismanagement. It is working more smoothly now, and advocates such as Downing are increasingly pushing voters or the state Legislature to legalize the drug for any adult use.
Massachusetts could legalize in November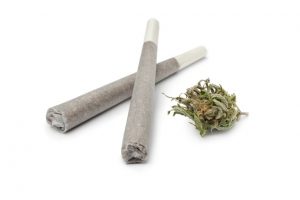 That cause is rapidly picking up steam, with a public vote possible in November. If it passes, Massachusetts would become one of the first states to bring legal cannabis to the East Coast.
Among other roles, Downing serves as treasurer of Bay State Repeal, a prominent local group pushing for legalization this year. He is the former operator of Yankee Care Givers, a local MMJ provider he used to supply about 1,000 patients with marijuana products for a wide range of disorders. Downing advocates for wider medical access to the drug. The group shuttered in 2014 over complaints Downing violated the state's caregiver laws.
Police told the magistrate that Downing continued to distribute cannabis after he knew he was breaking the law. The allegations stem from CBD Please in Allston, a shop he opened in 2014 to sell CBD marijuana products, which don't get users high. He has argued that these products are widely legal because they don't contain THC.
Downing not intimidated by authorities
"I know I'm doing the right thing, and I'm doing it for the right reasons," Downing said at the time. "I'm doing it for the patients here in the state, and I really don't care about the bureaucracies trying to stop me because they're immoral. And because the public does not support them."
According to Swomley, police tried to bully Downing by sending a heavily armed SWAT team to his home while his family was there.
"That's just way too overboard for who Bill Downing is," Swomley said. "They are trying to silence him."