Legalization is coming, everywhere. In a matter of years, marijuana could be legal from coast to coast, just like alcohol and cigarettes. But for now, the world's favorite semi-illicit drug remains hard to come by on the up-and-up.
Colorado. Oregon. Washington. Alaska. Washington, D.C. These are the places where weed is legal for recreation. It's a short list, but it won't stay that way for long. In the meantime, the patchwork nature of legalization in America makes for one hell of a summer road trip. Here's our approach to making the most out of four wheels, blacktop, and legal weed.
Starting Point: Anchorage, Alaska
Marijuana has been legal in Alaska since February. It should go on sale in 2016 across the state. Alaska is out of the way on any road trip – way out of the way – but if you plan to do it right, you can't skimp on states.
Anchorage is probably the best place to begin, though landlocked Fairbanks could also work. But definitely start in Alaska – your trip could take a few weeks, and it's easiest to drive across Alaska and Canada in high summer.
Next: Vancouver, British Columbia
The Alaska Highway is a 2,200-mile stretch of asphalt connecting Alaska and Washington State. Built during World War II, it's the only way to cover the distance between Anchorage and Seattle by car. It's also one of the most glorious stretches of wilderness road in the world.
Thankfully, marijuana is legal in Canada, if only for medical use. The government has tried to clamp down on illicit use, but with little success. You may have a hard time scoring weed from the medical market unless you know someone who knows someone, but it should be easy to find the old-fashioned way.
Next: Seattle, Wash.
From Vancouver, cross the U.S. border at Blaine, Wash., and take Interstate 5 south to Seattle. There you'll find one of the two fully functioning legalization systems in the country.
Washingtonians voted to legalize marijuana in the 2012 election, as did Coloradans. The first retail pot shops opened across Washington in July 2014. Though plagued by a series of initial setbacks, the program is now running smoothly and generates far more revenue than experts had predicted.
Seattle offers possibly the best combination of easy grass, pot-friendly culture, and unbeatable surroundings anywhere in the United States. It's a great place to stretch your legs and enjoy a blunt or 12 before hitting the road again.
Next: Portland, Ore.
Cannabis is legal in Oregon, but it won't go on sale until next year. In the meantime, adults may grow it at home and gift it to each other in small amounts. But even without an active retail market, the Beaver State is a must-see on your marijuana road trip.
Like Washington, Oregon is packed with breathtaking coastal scenery and some of the nicest people in the world. But as far as weed is concerned, it's best to stick to Portland. You'll have an easier time finding it there, and you may even stumble across a giveaway.
Next: San Francisco, Cal.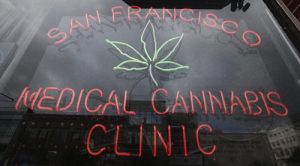 Pot isn't exactly legal in California, but that hardly matters. The drug has been widely available since medical marijuana was adopted in 1996. You may have to jump through a hoop or two as an out-of-stater, but it typically isn't too hard to pull off.
Once you have your doctor's recommendation, find a quiet, scenic place to use your favorite drug the same way Californians do: with a wink and a nod. From the Golden Gate Bridge to the Presidio to Hippie Hill to the Castro, San Francisco is a pothead's delight. Plus, neighboring Oakland is home to the world's biggest marijuana shop, the Harborside Health Clinic.
Next: Boulder, Col.
Colorado is ground zero for legal marijuana. And while Denver may be the heart of Colorado, economically speaking, its true soul lies in Boulder. From San Francisco, cross the Golden Gate Bridge onto Interstate 80, and then follow that across Nevada, Utah, and Colorado. Turn south onto Interstate 25 in Cheyenne, Col., and take that to Boulder. It's a two-day drive.
Home to the University of Colorado and easily one of the country's most progressive cities, Boulder is a longtime favorite of hippies, counterculture types, and stoners alike. It's near Denver, and between the two cities there are dozens of great legal pot shops. This is one place where lighting up doesn't stand out.
End Point: Washington, D.C.
Legal weed isn't exactly easy to get in the nation's capital, at least not yet. Voters legalized the drug in 2014, but Republicans in Congress have tried to block the law from taking effect. Currently, it is legal for adults to grow, possess, and use small amounts of cannabis, but not to sell it.
When you do get your hands on some green, be careful where you toke it: Possession and consumption remain illegal in all public places, especially federal property. That includes the Mall and pretty much every memorial in sight.
The stretch from Colorado to the District is long, crossing Nebraska, Iowa, Illinois, Indiana, Ohio, Pennsylvania, and Maryland. It's at least a three-day drive, and pot is banned everywhere along the way.
Still, the chance to smoke weed in sight of the White House or Capitol Hill or the Supreme Court building or really any place occupied by the federal government is one you shouldn't pass up, regardless of the drive. Find a quiet, private place, spark a blunt, and offer thanks to the gods of changing cannabis law, in D.C. and elsewhere.