Potheads will no longer face jail time for simple marijuana possession in Florida's largest county.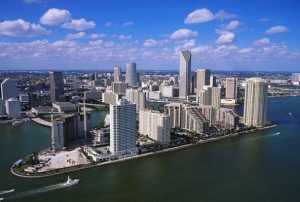 County commissioners in Miami-Dade County, which includes the unincorporated city of Miami, voted June 30 to decriminalize possession of no more than 20 grams of cannabis, slightly less than three quarters of an ounce. The only penalty now is a $100 fine or the equivalent in community service.
Marijuana is illegal in Florida, except for non-intoxicating medical uses. The current penalties for possession of small amounts of cannabis, a misdemeanor, are $1,000 in fines and up to one year in jail.
Those punishments remain in place at the state level. But the new policy in Miami-Dade means local police and sheriff's officers will be directed not to arrest small-time stoners.
Latest in a list of cities to decriminalize weed
The vote is just the latest move by a growing number of American cities to decriminalize weed. Philadelphia; Chicago; and Portland have all removed criminal penalties for pot possession. Several, including Portland, no longer levy even civil fines, effectively rendering the drug legal at the local level.
In addition, 15 states have decriminalized under their statutes, including Delaware, where lawmakers recently voted to remove criminal penalties. That means cities in those places, including Los Angeles and New York, no longer impose jail time.
Florida is on a path toward marijuana reform, even if it's moving at a snail's pace. A medical marijuana proposal failed at the polls last year, but only because it couldn't muster the necessary 60 percent vote; the total was well over 50 percent, meaning a future attempt is more likely to succeed.
Activists are already working in that direction, hoping to put the issue on the 2016 statewide ballot. Currently medical cannabis is restricted to patients suffering from a very short list of conditions, mostly severe seizure disorders. If the second attempt passes, a much larger group of patients would have access to the drug, even if it contains the intoxicating chemical THC.
Florida's most progressive city
Miami is Florida's largest city, though it shares its government with that of surrounding Dade County, creating a merged city/county commission. The region is among the most progressive in Florida, making it ideal for weed reform.
Miami-Dade is the only local Florida community that has tried decriminalization, and there are few, if any, other efforts in the works. But the commission's vote could ultimately spur other cities to act in advance of the eventual arrival of medical cannabis.
In addition to states that have decriminalized pot, four – Colorado, Washington, Oregon, and Alaska – have completely legalized it. Another 33 allow some form of medical marijuana.
The results of reform are rapidly becoming apparent. Legal cannabis is getting cheaper, driving more people away from the black market. Fewer people are driving drunk in states with legalization. And Mexican drug cartels are already reeling from the loss of a massive American cannabis market.
The vote in Miami-Dade is only more good news. It could drive other parts of Florida to consider reform. And it could herald the likely success of medical weed next year.