Three debates into the 2016 presidential primary race, it's clear one party leans toward legalization while the other opposes it. It's not quite as simple as that, but as a general rule, the Democrats are giving the idea a more sympathetic ear than Republicans.
But which, at this early date, is the better choice for voters who care about weed and criminal justice reform? And what do both sides plan to do about pot if and when they enter the White House in 2017? Here's a look at where the Democrats and the Republicans really stand on legal cannabis.
The Democrats
At their first debate Oct. 13, it was readily apparent that most of the candidates on stage support at least some degree of marijuana reform. Only one, Vermont Sen. Bernie Sanders, outright said he would support legalization if he had the chance, but his chief Democratic rival, former Secretary of State Hillary Rodham Clinton, said she backs medical marijuana and is still undecided on legalizing recreational weed.
The other candidates, including former Virginia Sen. Jim Webb, former Rhode Island Gov. Lincoln Chafee, and former Maryland Gov. Martin O'Malley, weren't asked directly for their views on legalization. But O'Malley is studying the issue on the ground, and Chafee has said before that he is open to the possibility of legal weed nationwide.
Webb, meanwhile, is a longtime supporter of decriminalization as a means to repair the overburdened justice system, though he is a long-shot, both in the race for president and in the second-tier contest for a vice presidential nomination. Webb is generally regarded as conservative for a Democrat, but his position on legalization is one of the most liberal in the party.
That said, Sanders stole the thunder on legalization. Asked by CNN moderator Anderson Cooper how he would vote on a proposal to legalize pot in Nevada, he said he would support it. That initiative will appear on the statewide ballot in 2016.
"I suspect I would vote yes," Sanders said. "And I would vote yes because I am seeing in this country too many lives being destroyed for non-violent offenses. We have a criminal justice system that lets CEOs on Wall Street walk away, and yet we are imprisoning or giving jail sentences to young people who are smoking marijuana. I think we have to think through this war on drugs, which has done an enormous amount of damage. We need to rethink our criminal justice system, we've got a lot of work to do in that area."
The Republicans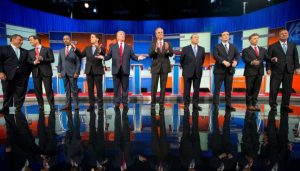 So far, after two debates, no candidate in the GOP primary has come out in support of legalization. It's unlikely any of them will, even if the topic comes up at a future debate – and it might not. One Republican, former Kentucky Sen. Rand Paul, has come the closest, saying he's open-minded on the issue, but the rest have either rejected the idea or taken a wait-and-see approach.
Paul is no longer viewed as a credible contestant for the presidency. The current front-runner, billionaire Donald Trump, has said in the past that he favors legalizing all drugs, but he disowned those comments earlier this year, telling a conservative gathering it would be a mistake to legalize even marijuana.
Two Republicans, former New Jersey Gov. Chris Christie, and former Pennsylvania Sen. Rick Santorum, have publicly said they would stamp out legalization if they win. Neither has any real chance of winning the nomination, let alone the presidency, but their strident tone has made it clear that the best hope for cannabis reform lies on the other side of the aisle.