Happy Holidays from Stoner Things! This month's giveaway features two prizes, one for each of your favorite ways to get stoned. Dabbing has definitely swept the stoner culture but everyone has a true preference. So, whether you prefer smoking over dabbing or vice-versa, you won't be regifting this giveaway.
Stoner Stocking Stuffers
Terp Tube Beaker 
This beaker from Terp Tube is ready to rip. Made from thick borosilicate glass and equipped with an ice catcher and a removable downstem, the water pipe is a durable daily driver for anyone who likes to smoke tough.
Purple Rose Supply Personal Cannamold Kit 
Blunt lovers, you're in for a treat. Thai sticks, also known as cannabis cigars, are a long-standing novelty treat that is now sold at dispensaries for a pretty penny. But, Purple Rose Supply has made it easy (and affordable) to access for all. Buy here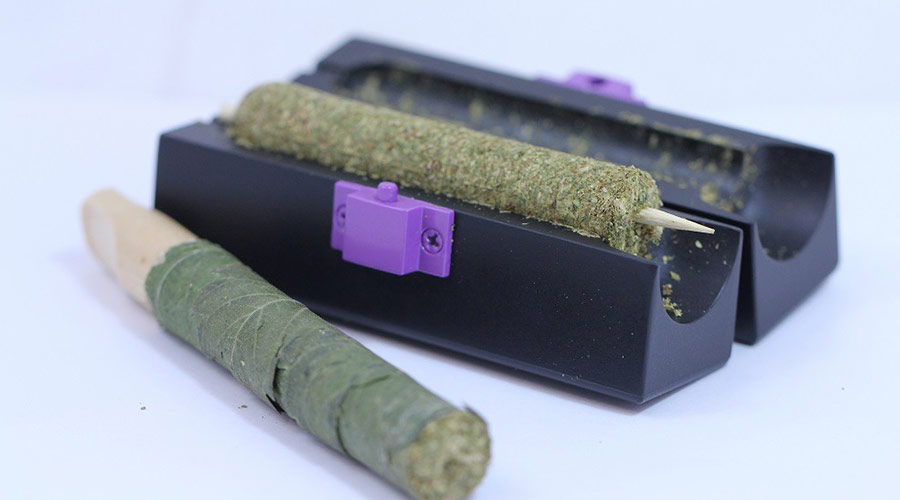 Their Cannagar Mold Kits are available in three sizes: small, personal, and large. Each includes all the tools needed for a perfectly packed Thai stick: A mold that allows you to easily pack and form the cigar with help from a built-in funnel and packing tool, skewers that create airflow for smooth hits and an even burn; and a wooden tip that keeps the lips non-stick. Get ready for an unparalleled smoking experience that will get you an invite to all the good parties.
Want to learn more about this awesome innovation? Read all about them in our detailed Cannagar Mold Kit product review.
Dabber Stocking Stuffers
Terp Tube Quartz Beaker Kit 
Talk about having it all. This kit from Terp Tube is ready to elevate your dab session with some of the most useful accessories on the market. The 5" quartz beaker features a built-in 25mm beveled quartz nail and comes packaged with two terp pearls and a cyclone carb cap that spins the pearls.
The rig is perfectly compact for dabs on the go, or to hang out on your nightstand for easy access during Netflix and chill. But, don't let its size fool you, the combination of these products will deliver milky and delicious dabs.
Terp Tube is a brand designed by dabbers, so each piece is made to deliver. From chuggers to big beakers and various styles in between, the brand has something for every budget and preference.
Skilletools Anodized Mini Dr. Dab
This mini dabber from household dab brand Skilletools comes with a keychain for easy accessibility. The signature Dr. Dab design is a one-sided flat tool that can handle various concentrate consistencies. This rendition is anodized and miniaturized, and ready to attach to your keys for one last thing to remember when you're heading out the door.
We hate to break it to you, but being on the 'nice list' doesn't get you extra entries. So, be sure to visit our giveaway page to take advantage of all the ways you can enter to win! Two winners will be chosen at the end of the month.