Police in Detroit raided a medical marijuana shop in July, arresting two people and seizing drugs and firearms.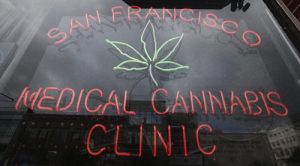 The haul included roughly 9 pounds of cannabis, 12 edible products, and two guns, police said. Police raided Detroit Medz July 14 and arrested two people allegedly connected to the business. They weren't immediately identified.
Medical weed has been legal in Michigan since 2008, when voters approved it by a wide margin. But the state Legislature has repeatedly refused to legalize dispensaries, and the Michigan Supreme Court has declared the shops illegal until lawmakers act.
Regular raids on illegal dispensaries
Police across the state have raided illicit shops, but the Detroit Police Department actually favors regulation of the chaotic industry. In this case, "they were just selling to anybody who walked in," said Sgt. Cassandra Lewis, a police spokeswoman.
Medical cannabis is restricted to patients who have registered with the state. They are allowed to grow the drug for medicinal use, and small collectives are permitted, but patients have no other way to get their medicine.
Detroit doesn't directly regulate dispensaries, as there is no ordinance in place to do so. Lewis said regulations would prevent the kind of problems seen at Detroit Medz – "so that it's safe not just for the customers but also for the community."
Detroit Medz allegedly distributing flyers to school graduates
Police say workers at Detroit Medz were handing out fliers near a local school during a graduation ceremony. The shop was openly breaking the law, police say, even if dispensaries are treated as legal.
State officials and most local police departments insist the shops are prohibited. Even in Detroit, this policy makes it practically impossible to open a legal MMJ dispensary.
Community activists agree with Detroit police that the city needs to start regulating pot shops. Winfred Blackmon, a local activist, says the city needs control over the businesses to prevent crime.
Regulatory control is needed
"I'm not against this for people who are sick, but what we want is regulation," he said.
Blackmon has pushed for months to get regulations in place. He says he talks regularly with state lawmakers and city officials about the problem.
Michael Komorn, a local attorney and president of the Michigan Medical Marijuana Association, said that even in the absence of regulation, the raid on Detroit Medz was unnecessary and ill-advised. Police would do better to focus on violent crime, Komorn said.
"I can't speak to this specific location, but there's a lot of dispensaries operating in Detroit, and it's unfortunate that Detroit's leaders and citizens seem to be at odds about whether they should be there," he said. "Some people still see medical marijuana as just dope. These places are not causing lawlessness and they're not hurting property values in the city."